After a painful thirteen hours pressed together like sardines, arriving in the city was like diving into a freshly-filled pool on a hot summer's day. That was our release off the plane and into Rome. The narrow, winding, cobbled streets lined with scooters and a few tiny cars; windows framed with operating shutters; crowds overflowing narrow sidewalks; the Coliseum like an ancient sentinel seen from streets, alleyways and hotel rooms; and an abundance of ostaria and ristorante drawing in either locals or tourists, depending upon a traveler's foodie-sense.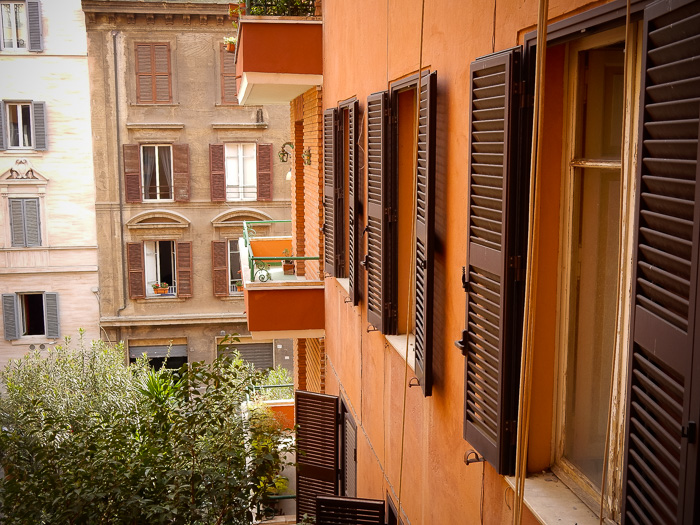 Rome was a three-day layover to recover from jet lag and see a few sights before commencing our cruise. We marvelled at the narrow streets, gutsy drivers, yet life was much more laid back when it came to dining, browsing, or taking a stroll.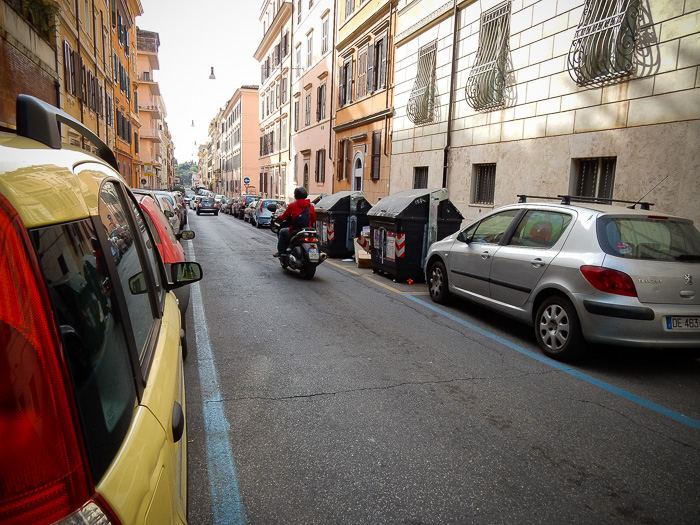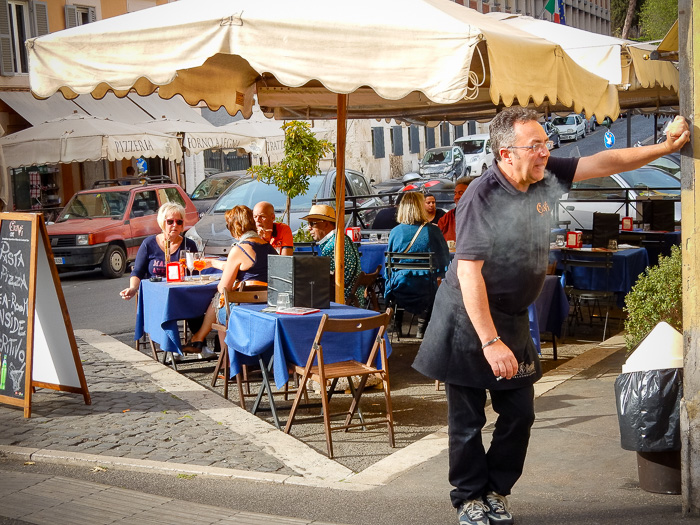 Of course we saw a few of the sights.
Good food was usually down a narrow and out-of-the way alley.
Scooters outnumber cars. This would be a scooter version of a Porsche, I suspect, for this businessman.
Of course, there were crowds of tourists everywhere. Joining them was necessary if we too wished to see some of the exotic and priceless art that is abundant, particularly in the Vatican.
Finally, we embark. Our first cruise. Man that ship is big — MS Koningsdam.
What I'm sharing in photographs is merely a blink at those I've taken. As I begin to share images from our many ports-of-call we experienced on the cruise, those too will merely be blinks.
My favourite memory of Rome: the utterly flavour-bursting bruschetta like I have never tasted in my life! They were that good! Fresh (grown there), ripe (not trucked), dripping with flavour tomatoes cut in huge chunks over top the most delicious crispy-crusted handmade Italian bread (absolutely no additives), generously drizzled with (grown right there) extra virgin olive oil, with fresh (grown right there) basil torn on top. Simple yes. But I've never in my life eaten something with that intensity of natural flavour. Utterly memorable.
So tell me, what is one of your favourite, or perhaps unique, memories of a trip you have taken?
Until next Monday my lovelies may you notice the details, enjoy the ride, and savour a favourite memory.