I'm definitely on a roll with getting as many of my unprinted photos off the computer and in print. I write about it frequently here on my blog and the most recent of those posts showed the photo books I created as a gift for my grand daughters — by the way, the photo books were a huge hit with them!
One is a compendium of favourite family photos; the other is a mini portfolio of some of my favourite creative images.
Photographs really do look better on paper. That applies to printed photos intended for albums or for framing. It also applies to photo books. Some photos, when printed, will even make you gasp. I know. This is part of the reason I'm on a roll getting my photos printed — they look so good in print. I'm proud of them and they bring so much joy. I've really had a solid change of mindset — I'm focusing more on ensuring my photos are printed rather than making sure they're stored digitally in two (or multiple) methods. Digital files are not forever; prints last 200 or more years.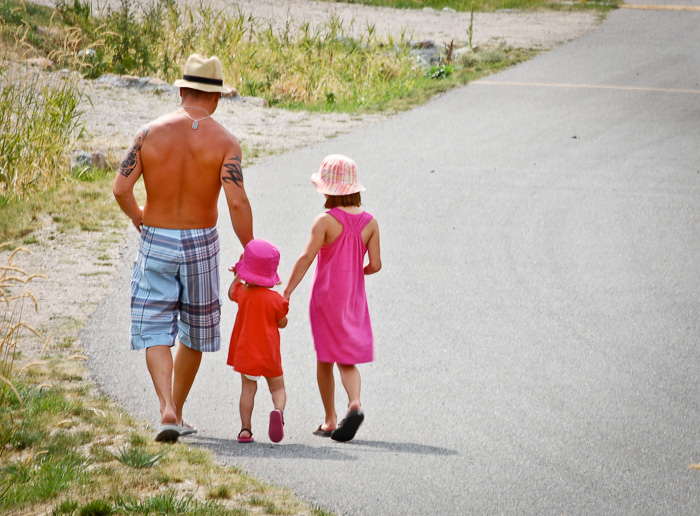 Let me tell you a story about this photo. As you can see, it is in one of the photo albums I recently had printed. It was an extremely hot day. My son had invited me to join his family for a weekend at the lake. We camped in their holiday trailer and spent that day out on the water in my son's boat. At the moment this was taken, my son was taking the girls to the washroom. He had a camera with him and took a photo of them on their way back. Every time I see this photograph, my heart flutters and I linger, reviewing the memories of this image. I think about how loving and caring my son is toward the girls. How he so naturally takes care of their needs. How there is such a strong bond. I remember this because it was photographed (10 years ago). I cherish these moments because this photograph is printed (I actually also have a physical print of this in a frame.)
As I mentioned in the more recent posts about photo books, I've been trying a few different companies to see the differences in quality, colour, and even price. But to be honest, although most companies fall within a range that is really only dollars in difference for the exact same thing, for me the most important criteria is quality as well as service (if there is interest, I'm willing to summarize my own findings). Some photo book companies are more intuitive to use, some downright simple, and very few are a bit frustrating to figure out. But in the end, by getting images off the computer (phone, tablet, or DVDs) and archived in a physical format, we ensure the reason we took the photo in the first place is being held forever.
I don't ever plan to print every – single – photo. I simply print the ones that I want to preserve and enjoy for a long time (like the photo and story above). And in turn, even once I'm gone, my family will be able to flip through the printed photos (albums and photo books) and reminisce and laugh and maybe even cry. The printed photos become a legacy. Photos on the various technologies will all disappear or be lost or tossed away, never to spark emotions in the way holding physical photos does. A print will always be there.
So keep taking photographs. But print one and take pride in it. Display it. And print your favourite family moments to create an album or create photo books of those moments. Put the most recent photo book on your coffee table. Let family and friends pick them up, browse through them, and be touched. Photographs never forget.
"The palest ink is better than the best memory." ~Chinese proverb
So my dear friends, may your week ahead include getting started printing a few photos. It will warm your heart.
============================
For Inspiration:
One of my long time friends was a teacher and she always created a family yearbook photo album from their photographs. She eventually switched over to making their family yearbook as a photo book. They're easier and slimmer than making photo albums. I've always thought that was such a great idea. Here's a link to another young mother who is using photo books to make her family yearbook — she also provides you with her how-to tips.
Photo books are easier than organizing loose photos