Looks like I missed two Monday posts. It's been busy around here, I've been rather pre-occupied, and generally discombobulated. So here's the scoop.
A few months ago we agreed we couldn't live without an Aussie in our life so began the search. Because we had some specific criteria, we didn't jump at the first litter or Australian Shepherd that was available nor were we interested in supporting breeders who simply breed constantly and do so in an effort to make money. We began looking for a young adult but found available youngsters to be few and far between at that time so we decided we should get a puppy. It has been a long and winding road and to make a long story short, we've arrived full circle to a young adult when suddenly a few began 'showing up'. We even went to see three different Aussies and passed on each one. Well yesterday, like in the story of the "Three Bears," our search resulted in finding the 'right one'.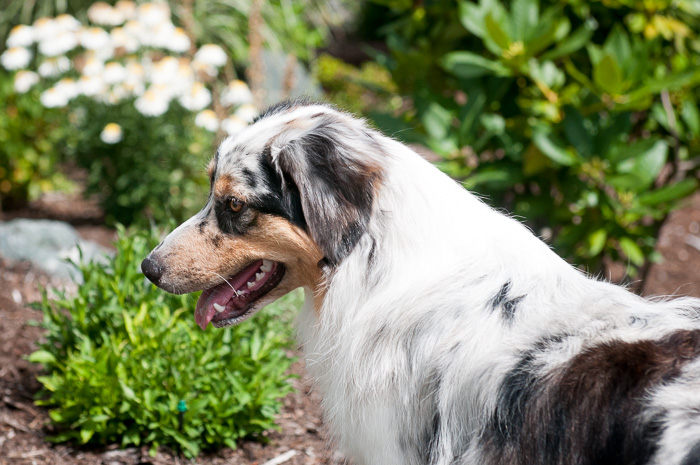 Heidi is an 11-month-old girl who is quite friendly and her nature is quite outgoing, though she really needs a great deal of socialization and life experiences. So for the next while she is going to be gradually exposed to all sorts of people, other dogs, places, experiences, but she also has begun learning what it means to live as a well-behaved house dog. I do not believe in, nor use, any physical punishments. Rather I allow a dog to learn by making choices and getting rewarded for making good choices. I set them up for success. Bad choices get ignored and, if necessary, a dog may be diverted to something entirely different if there is a high risk of a bad choice possibly being made. So they don't get used to making bad choices but they do get used to and love making correct choices. Punishment is not necessary. In this brief 24 hours so far, Heidi has already figured out a couple really good choices all on her own. She has a great deal to learn and catch up on but we will show her the way.
I'm currently registered in Susan Garrett's "Recallers" program. So our sweet Heidi is going to have the benefit over the next year to learn all kinds of wonderful behaviours, games, plus a dynamite recall, without any punishment involved along the way, just like Donna did.
And do I ever need to brush up on my camera skills, most especially taking photos of a moving target! Heidi, it seems, is forcing me to re-learn a few things too.
It feels so good to have an Aussie in the home again.
Perhaps now I can get back on track with my regular Monday posts. Until Monday, why not share with me any kind of story or lesson-learned from a pet of yours. If you don't have a pet, tell me a story anyway … I'll be waiting to read them!