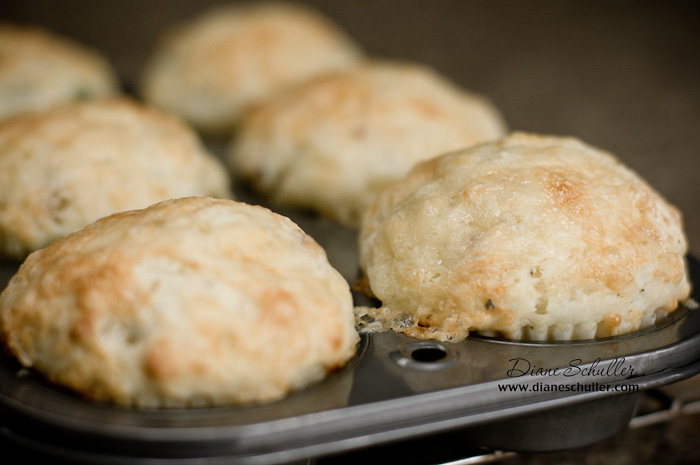 Looks like an ordinary homemade muffin doesn't it? It's not.
Would you believe these are Bacon, Leek, & (white) Cheddar muffins? Oh yes, and this is the second time within a week that I've made them. They are so darn delicious and perfect for a quick breakfast or to have with a more robust breakfast. The recipe, taken from Sea Salt: Recipes from the West Coast Galley by Alison Malone Eathorne, Hilary Malone, and Lorna Malone. What's cool about this cook book is that it's all about food and resources for recipes in my neck of the woods: Vancouver Island, BC, Canada (NOT Vancouver, btw). The cookbook is written by a mother and 2 daughters who are focusing on the recipes and the way they cook on their sailboat but you need to know that every single recipe applies to any land-locked person as well.
This isn't the only recipe I've made from the cookbook but it's such a simple one and so easy for having on hand for mornings, or anytime snacking, that I simply had to show you. I don't know if it's available yet in the USA but it can easily be ordered online from Amazon.ca even if you live outside Canada. I saw the book in a local bookstore and bought the first copy for a friend's birthday. I loved it so much as I was wrapping it up that I had to order one for myself. And then I had to order a couple more to give as hostess gifts. Sure beats taking a bottle of wine.
Do you have any cookbooks that grab you in this way? Please do tell.