I love giving hostess gifts and lately I've been trying to come up with ideas for gifts with a homemade touch. When we're invited to someone's home for dinner we always bring the age-old standby of a bottle of good wine. But I always feel that isn't enough considering the host and hostess have spent hours plus considerable planning & effort into preparing for the dinner. So I like to bring something extra besides the wine. If you have friends over for dinner or a party you know how much work is involved so you know the amount of effort your host/hostess has put into having you over  — doesn't it follow then if a gift shows you also put a little thought into it? Here's something I've been doing lately (though I hope to come up with a variety of these types of gifts).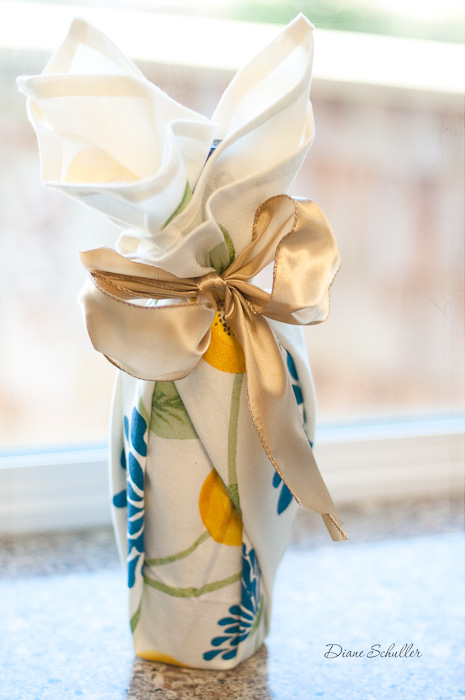 The last dinner party we were invited to, I knew the hostess doesn't drink wine although her husband does. So bringing a good quality wine was still a must. Instead of putting the wine in one of those store-bought bottle bags I decided to buy a pretty all-linen tea towel with a springy motif. I simply folded it over the bottle, gathering the ends at the neck, and tied it with a wide ribbon. It completely elevated what could have been an ordinary bottle of wine. To be certain the hostess also received something special, I decided to make something for her. I have to tell you that both little items I made, took a matter of minutes and not a lot of money either.
Knowing she is the type of person who writes thank you cards, I selected half a dozen of my lovely notecards/envelopes that I had made by Moo.com (here's a post about the postcards I ordered first), put them in a larger envelope (purchased at Michael's craft store), wrapped that with a single pink ribbon, and added a tag (the card on top is my thank you card to the hostess).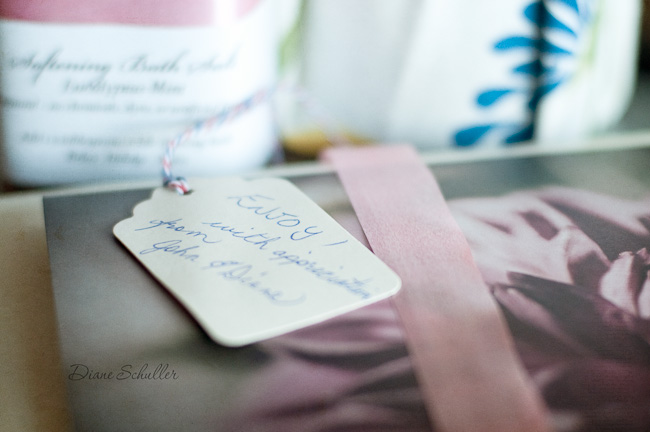 Next I made some softening bath soak (bath salts). It truly took less time to make the bath salts — all natural — than it did to make the label I used for the container (an empty tea canister tin). I never use commercial bath salts because they are so loaded with chemicals but when made at home from all natural ingredients and quality essential oils, what a divine treat!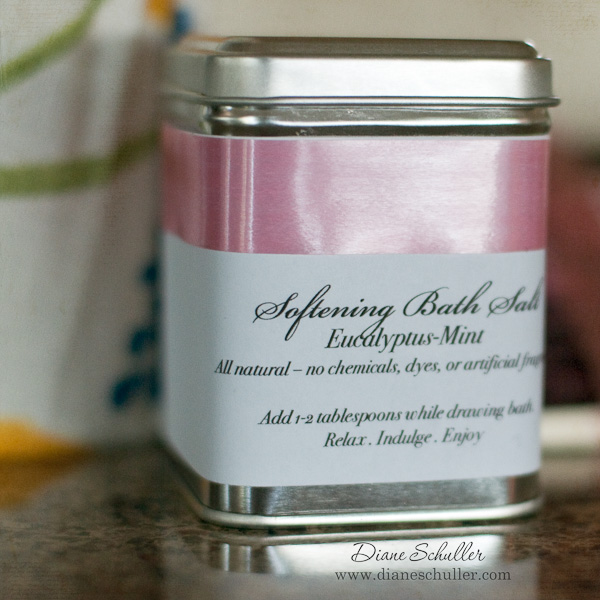 I wasn't entirely sure how these items would go over, since it was the first time I gave these as hostess gifts. As it turned out she was really pleased to receive the items I had made especially for her.
Tell me what types of hostess gifts you have made or what your favourite hostess gift is that you have received?