I couldn't help myself. I had to do two blog posts today. That last one was so boring long and really it was mostly housekeeping plus a peek at my attempt at art. This one is full of excitement.
Remember those images I did of the Trumpeter swans the other day? They turned out to be rather inspiring it seems. One of the people who left an incredibly flattering comment surprised me a short time ago when I discovered a link back to that post. Scott at Toad Hollow Photography (also located here on Vancouver Island) writes a popular blog for photographers called Light Stalking. To my delight and surprise Scott has given my post a mention in his blog today (scroll part way down to "Trumpeters").
And the next thing I'm excited to share has another connection to the swans. I just placed an order for a product I've been wanting to try, peel-and-stick posters. I've wanted something for my laundry room and also had an idea for a unique Christmas decoration using peel-and-sticks. The other day I decided I'd take the high key image of the swans and use it as temporary wall art for Christmas. It reminds me of "Peace" and family which, to me, are real themes at Christmas. And, even though it's not your typical snow-covered field I thought the primary-white was a nice fit. With peel-and-stick the beauty is you can leave it up temporarily, like for Christmas, or if I want to put it in another room that's also possible plus there will be no holes in the wall. It's not the high end look a canvas or framed photo gives but as Christmas art I'm sure it will be quite suitable. I think peel-and-sticks would be great for family snapshots or for kids / teens to decorate their own rooms. They would also be well suited for your office since you can put your photos up on the wall without making holes.
"Christmas is doing a little something extra for someone." ~Charles Schulz
While I was at it, I decided it was high time I finally put something up in my laundry room. I really miss hanging my laundry on the clothesline so I took a few of my favourite images and made a storyboard out of them. This too is being made into a peel-and-stick because I know I'm going to want to change images frequently in the laundry room. Besides I'm the only one who is ever in there so it doesn't need to be something with an expensive frame. So where did I order them from you ask? There's a great Canadian company called PosterJack. Check them out and see what they have to offer. You can upload your images from the convenience of your home and they'll ship to you quick as a wink.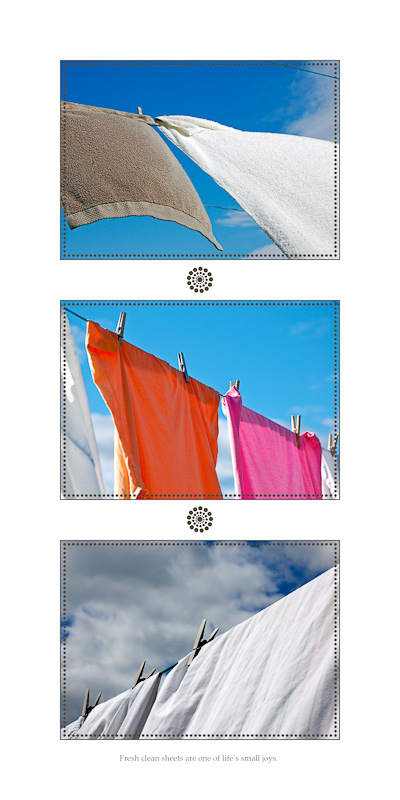 Later on, in the New Year, I'll also order another canvas gallery wrap but I'm excited to also try out either one of the metal prints or maybe one of the acrylic prints. Part of my problem is deciding upon which image(s) to use. Have you ordered any special items from your photos lately? Christmas is coming. Photo gifts (whether it's framed photos, a book or album of photos, or a craft made with photos) are far more meaningful than something from the local box store imported from China 🙂  I know I always love getting something someone has made, created, or put together for me (I will always accept a plate of cookies). And I always appreciate receiving a photograph from friends or family who I don't get to see all the time.
"The best of all gifts around any Christmas tree: the presence of a happy family all wrapped up in each other." ~Burton Hillis