I love receiving real mail — letters, notes, or postcards. Who doesn't? I also make an honest effort to send real mail to friends and family.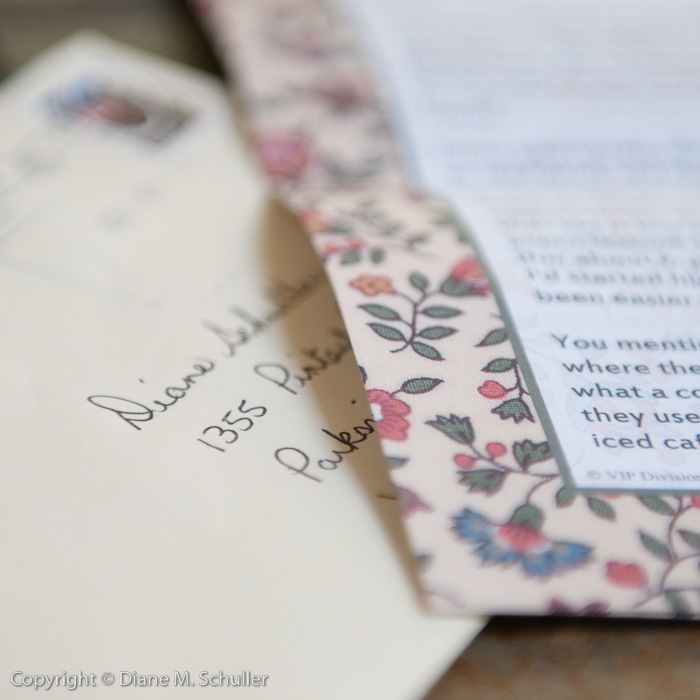 We've just said goodbye to company who have been with us this past week. It was great having my husband's brother, sister-in-law, and their son (our nephew) come to visit. I enjoy company anyway, but it was a real pleasure having them here with us. It's been busy and so I've been absent for a while. The next few days are going to be equally busy so thought I'd do a quick update.
While our relatives were visiting, I received a letter in the mail from a friend. Receiving mail gives me the same feeling that I recall having at Christmas time when I was a kid. It's actually exhilarating to see a real letter (or postcard or notecard) sitting in the mailbox. The fact that someone took the time to sit down and write is such a gift. Don't you agree? I had sent a letter to my friend and, as busy as she is, she took the time to write me one in return. It was filled with some interesting tidbits, a bit of news, as well as some personal reflections. A private conversation — on paper. I can hardly wait until I have an afternoon or a quiet evening to sit down and write another letter in response. I also need to send my son a letter too. I want to get a few photos printed up to drop inside the letter I send to him.
Do you write letters anymore? Do you receive any? Why not surprise a very dear friend, or one of your siblings or your parents and write them a letter? You can do as my friend did and type it on the computer if that makes it easier. I can guarantee you'll feel so good inside as you press the stamp on and send it on its journey. Whoever is receiving it on the other end will be absolutely thrilled — and likely very surprised — to receive your gift of a letter.
When my mother died, being the only child, I had to go sort through everything in her home and pack everything up. In one of her dresser drawers, stashed under some personal items, was a plastic bag filled with letters. They were all the letters I had written her over the years. She treasured them and kept them all. I still have them knowing how much they meant to her.