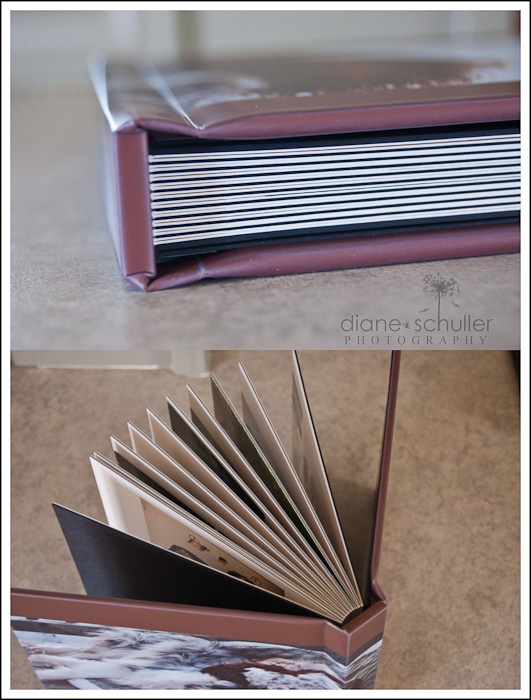 Custom albums are the ideal way to tell the story of your wedding day. Any professional photographer involved in wedding photography considers an album an important element of the full service. The sad thing these days is that so many couples purchase a disk of images with the intention of printing their own photos or making their own book. I've talked to several photographers and individuals and have learned that most couples simply put a few photos on their Facebook account, then keep the disk stored in a drawer or corner somewhere. What's even more unfortunate is that, because life gets busy or other priorities take over, that book is never created and most couples never print any of their photos. What a shame.
A professionally designed album of your wedding day is a tangible item you can open anytime and reflect upon the memories and special moments of that special day. A quality album lasts for years becoming a treasured family heirloom that can be handed down and shared with future generations. Think about when you flipped through your parents wedding album and then consider your own children doing the same one day. Disks fail and, especially if prints are never made, what a shame to have those once-in-a-lifetime moments gone, except in memory.
If you're looking for professional photography in the Grande Prairie area, or any location/destination, contact me to discuss availability and details. I'd love to photograph your special day, capturing moments and your personal story that will live on in your custom wedding album.
If you are one of those couples who have a disk hidden under a pile of papers somewhere, contact me to inquire about getting those images in a beautiful custom album or custom hardcover book. You have a choice of the custom designed flush mount albums or a more traditional type of matted albums in different styles you can choose from with prices starting at $400 and up (2010 prices). I also offer Portrait Books or traditional albums for parents, family, or friends at lower price points. These other albums and books make a memorable and classy thank you gift for those who shared in or helped create your special day. (Albums and books come in a wide range of sizes and cover options — even a mini is better than none at all.)
The following is a photo collage demonstrating a 20 page 10″x10″ wedding Book (the flush mount albums have full spreads whereas the books are individual pages). This also shows how multiple photos can be incorporated to better tell the story of your special day, although using fewer photographs better showcases your favourites.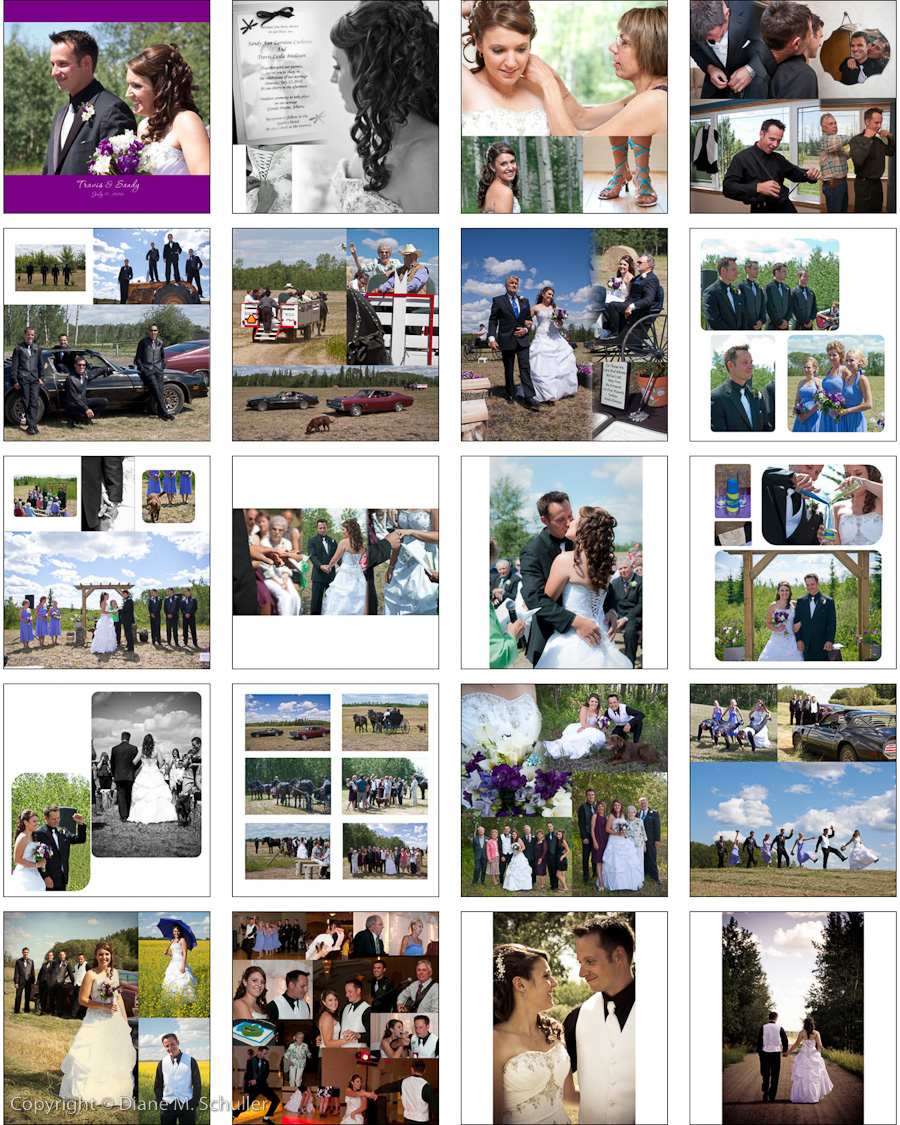 A WIDE variety of styles and designs are available from plain & simple (featured above), modern, or traditional options. Quotes or captions may be incorporated. With some of the designs, colour blocks to match the wedding colours are another option. There are many possibilities and each album is entirely unique — custom designed to your desires.
~~~
Photographs Never Forget! … Keeping memories alive with custom albums and portraits.