The book has arrived! My copy of the 2010 Paws for Charity Art Book arrived and I'm so pleased to be included in this incredibly worthy cause. Many thanks go out to Sara Harley for all the work and dedication with this project, now in its second year.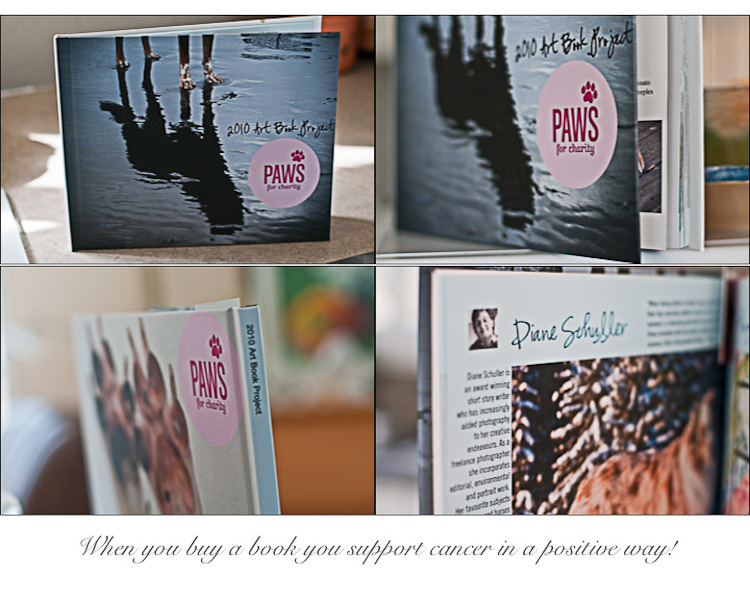 I warned you all that I'd be mentioning this book every chance I get throughout the year to help encourage sales. Don't forget the proceeds from the sale of this book and the sales of the greeting cards go towards the chosen cancer charity (a different cancer charity is chosen each year). Many of us have been touched by cancer in some way whether it's a family member, friend, or coworker. There have been several of my own family members, including my beloved mother, who died of cancer. I've been extremely fortunate to have survived cancer, nearly a full ten years ago and continue to remain cancer free.
The book is available either in softcover or hardcover, but I highly recommend purchasing the hardcover for the small extra amount. Many of the artists have made their images available as greeting cards which also make a great gift, but are equally worthy to use yourself as gift or notecards. So, I hope you will consider supporting the Paws for Charity 2010 Art Book. I'll provide links below again so you can learn more.
I do not receive a penny from sales — my photography simply appears alongside other artists' work in this book. I hope you will help get the word out about this project (book and the greeting cards). Tweet about it, blog about it, link to this post or directly to the Paws for Charity site, mention it on Facebook, any way you can.