Let the bells ring, the book I've been telling you about is hot off the presses! I was fortunate that one of my canine photos was chosen to be included in the 2010 Art Book Project. I see Sara Harley (the hardworking editor) got the press releases out to the media already. Here's the scoop.
The Paws For Charity Art Book Project is a unique fundraiser that celebrates our love of pets, and raises funds for a human cause. The 2010 Art Book is a compilation of artwork and photography of dogs and cats from by 65 artists and photographers in 7 countries. All funds raised from the sale of these books are donated to The Avon Foundation Breast Cancer Crusade, a registered charity with programs in over 50 countries. This charity also carries the Humane Charity Seal of Approval.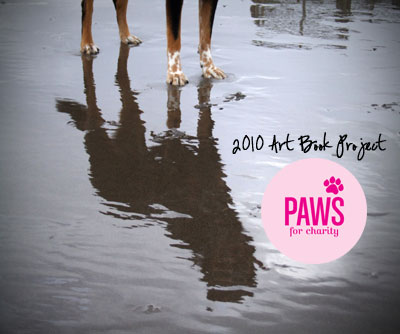 I'm proud to have been invited to make a submission and, even more proud to have had a photo chosen for this great cause. The book can be ordered in hard cover or soft cover but I recommend the hardcover. It makes a great gift whether for someone who loves dogs & cats, someone who appreciates fine art, or for someone who has had a struggle with cancer. I hope you'll consider supporting the cause. Since this book is a fund raiser, I will be making reminder posts over the balance of 2010. Why not get yours today! You can see a preview of the 75 page coffee table book (the first 15 pages) when you visit the 2010 Art Book.
PS: On another paw-note … BOY oh boy have you people made it extremely difficult to narrow down to 5 finalists for our pet photo contest! We got a nice representation of both dogs and cats. I was near tears when I read some of the entries: we have some really heartwarming entries from people who have rescued their pets. As promised, I will have the finalists posted on Wednesday, later in the day, and then the voting can begin to choose a winner!
Diane's website ||  Diane's Facebook photography page