I think I was meant to be a knitter. For as long as I can remember, I've been strongly attracted to yarn, yarn shops, and I've even been known to buy yarn — before I ever learned to knit. True story.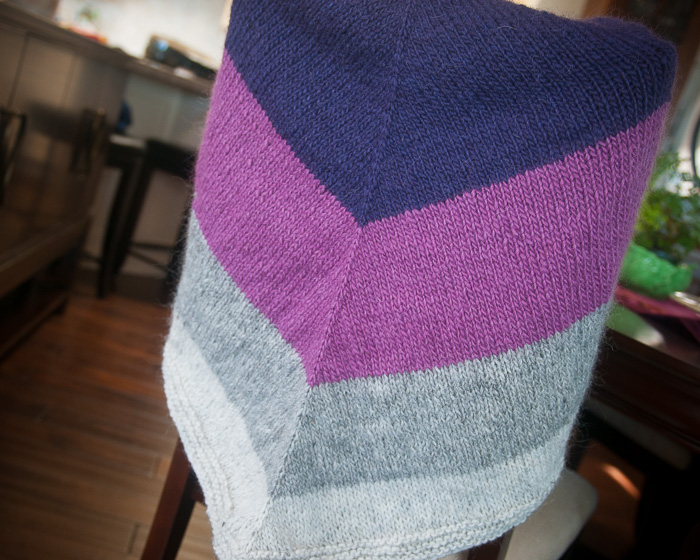 I finished my Nordic Wind shawl and am a tad more-than-pleased with it. My first time ever using the Alafoss Lett Lopi icelandic wool. I was concerned it was too 'rustic' but trusted the designer. Now that it's knit up (a rather quick knit) and washed, I'm actually pleased with how it softens. Don't get me wrong, it's still on the rustic side, but that was the point of doing this one. I've got it safely stored away so I can proudly donate it to an auction for a very worthy local cause this fall: Vancouver Island Compassion Dogs, a non-profit organization that matches rescue dogs to veterans with Post-Traumatic Stress Disorder (PTSD).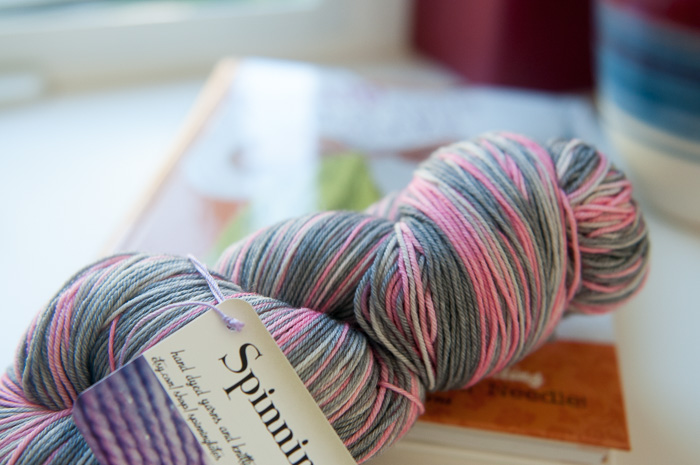 Does this yarn look at all familiar to any of the knitters out there? If you visit Andi at My Sisters Knitter, you saw the socks she's knitting up using this pretty yarn. The moment I saw a photo of this over at Andi's blog, I checked out the details and located the Etsy seller who hand dyes this gorgeous yarn. If you'd like some too I highly recommend checking out Laurel's Etsy shop, Spinning Fates. This particular yarn is her Spinning Fates Megara in the color Schrodinger's Cat. My new 47″ ChiaoGoo RED Lace needles have arrived so as soon as I'm finished my current project (a Christmas present for my step-mom), I'll be starting another pair of socks using this pretty yarn.
Did I tell you I ordered the knitting book, Toe-Up 2-at-a-Time Socks
? I can hardly wait to try some of the patterns. She gives straight forward and easy to follow instructions with each pattern.
And in case you think all I do is practice piano, entertain, and knit, here's proof I spend some time in the kitchen.
TIP TIME: At this time of year, with all the fresh fruits hanging around the kitchen, the fruit flies are everywhere. Last year I discovered a great and incredibly effective (and easy) way to get rid of them without a single chemical. I use the cider vinegar method shown in this video and it works like a charm. He uses a large bowl, I only use a tiny egg holder and I catch all the fruit flies within 24 hours – gone.
Do you have a great tip (of any kind) to share?