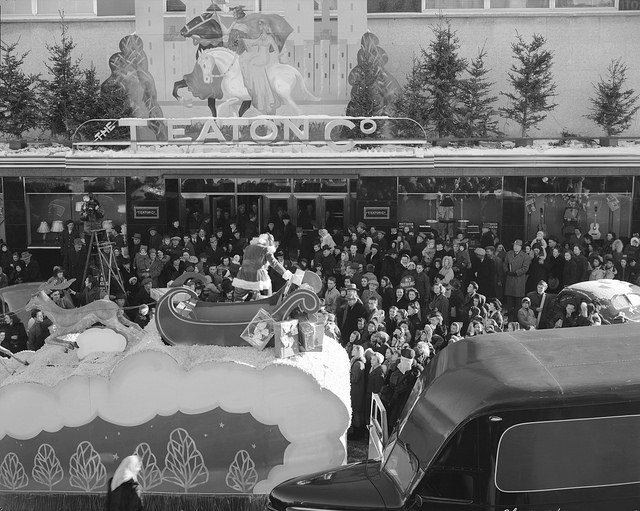 Photo credit: Provincial Archives of Alberta, BL1243/2 — Eaton's Santa Claus Parade, Edmonton Alberta
I remember when Mom used to take me to Eatons. We never had much money but Christmas is when we would go. Everyone was always dressed up in those days (the 1950's), even if we didn't have a lot of money. Men and women wore hats, nice wool coats, gloves, and that was usually your 'Sunday best'. It was wearing our Sunday best that marked that outing as one that was so special. Eaton's always had model trains set up that would be running on elaborate tracks and with lots of 'moving' decorations. It was always so exciting for me — a great snippet of a memory.
Above all, the memories that linger are those that do not involve presents. What matters most are the gatherings, the laughter, the music, the traditions and experiences, and the times shared with loved ones.
=======
Whether you have read my blog once or twice, for months or for years, I want you to know how grateful I am. Thank you for reading and especially, thank you so much, for taking time to leave your thoughts or comments — that's the best part for me. It feels good knowing I've shared a photo, or thoughts, or one of my experiences and it has connected with you.
Part way through this year I tried to do regular every-Monday posting. It lasted for several months but in recent months, as you can see, I'm off-side again when life snuck it's way in to my schedule. I do like posting with regularity and some months, the posts will come each Monday and other times, there will be gaps.
As this lovely year comes to an end, I wish you and yours a warm and cozy Christmas (or Hanukkah or Kwanzaa or whatever you celebrate) filled with joy, traditions, and all that you embrace during this season of wonder.
Warmly from our home to yours,
Diane