Reading: For the second time, happily so, Circling the Sun: A Novel
.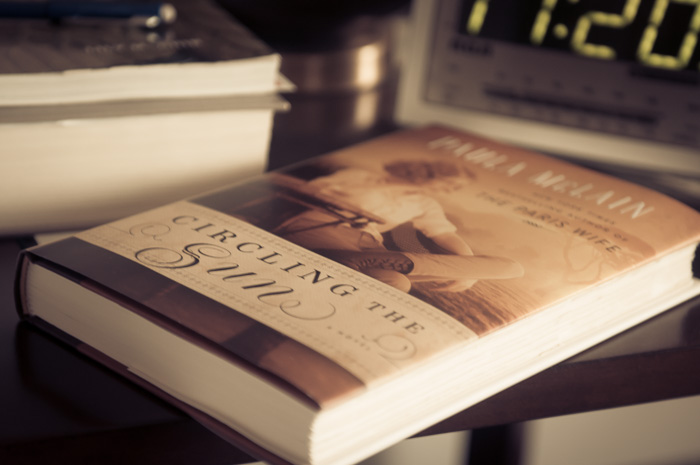 Made: another pair of socks. Experimented with techniques.
Best home meal: On an eggs benedict kick so made two versions. First one and most delicious version was seed bread; avocado; marinated tomatoes; poached eggs; hollandaise. The second one which was very good but didn't quite hit the pinnacle as the previous one was toast; stir fried brown mushrooms; hollandaise. Going to make both again.
Gave me joy: A photo and text sent from my oldest granddaughter. A phone call with my son. Sunshine on the snow. Tulips on the table.
Gathered: Had a grand time with my book club sisters one afternoon plus a stimulating evening with some very good friends over dinner at their home one evening.
Something different: Not a tea drinker but enjoyed a hot cup of Genmatcha popcorn tea.
Quote of the week: "I want a life that sizzles and pops and makes me laugh out loud. And I don't want to get to the end, or to tomorrow, even, and realize that my life is a collection of meetings and pop cans and errands and receipts and dirty dishes. I want to eat cold tangerines and sing out loud in the car with the windows open and wear pink shoes and stay up all night laughing and paint my walls the exact color of the sky right now. I want to sleep hard on clean white sheets and throw parties and eat ripe tomatoes and read books so good they make me jump up and down, and I want my everyday to make God belly laugh, glad that he gave life to someone who loves the gift."  — Shauna Niequist, Cold Tangerines: Celebrating the Extraordinary Nature of Everyday Life
.
 May your coming week sizzle and pop and make you laugh out loud!
Share with me what you have done this past week that gave you joy, made you smile, or that for which you are grateful.