"Like small gods, children formed their miniature worlds out of clay, or even just words. To them, the truth was never simple."
"In childhood, Lib remembered, family seemed as necessary and inescapable as a ring of mountains. One never imagined that as the decades went by, one might drift into an unbounded country. It struck Lib now how alone in the world she was."
Both quotes above are from my most recent book club selection and are an appetizer into what you will find between the pages. I just finished reading Emma Donoghue's The Wonder
. It's a novel that was on my to-read list so I'm pleased someone in our group chose it. I found it extremely well written in terms of vocabulary and time period but it was a bit of a disappointment (though it's still an interesting storyline so I do recommend it). To read more detailed remarks, slip on over to read my comments on Goodreads.
Did I mention I finally finished that beautiful, comfy, and easy-to-knit sweater by Canadian designer Jane Richmond? Not only did I finally finish it, but it fits perfectly! I only wish I had begun earlier because it would have come in handy with the three weeks of below zero weather we had.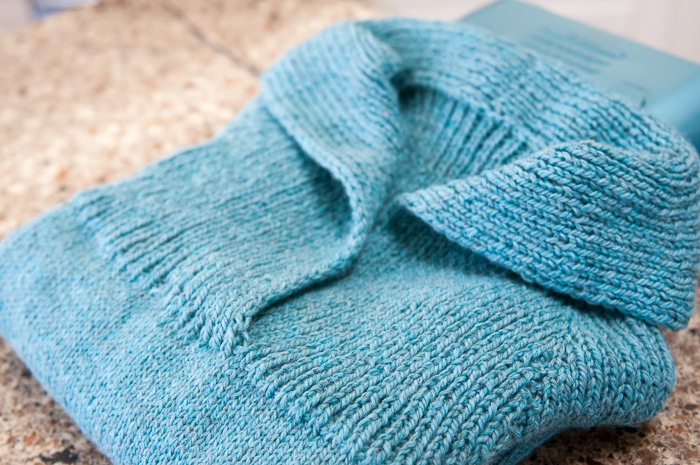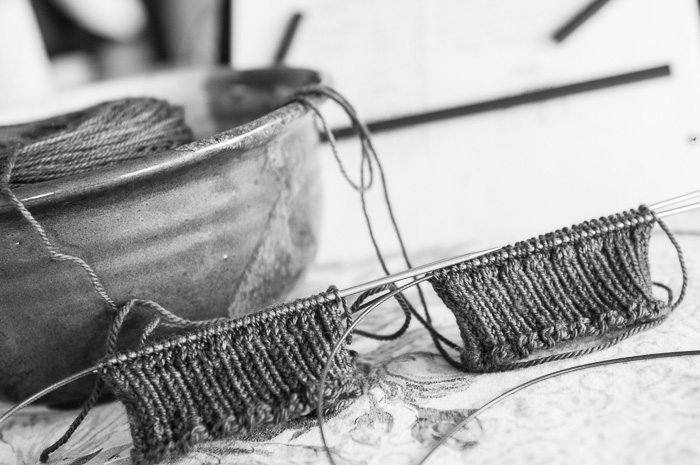 With the pullover behind me, I am currently knitting another pair of socks pour moi. These are the first socks I'm making that have a lace design. It's not the kind of thing a person, at least not THIS person, can knit while watching TV. Complete attention is required. It's also been quite the adjustment knitting a sweater with bulky weight yarn and large needles to knitting with fingering weight yarn on teeny tiny needles. Talk about vast contrasts.
Oh dear, I nearly forgot. I want to thank each of you who have responded to my recent questions at the end of my blog posts, but especially for those of you who shared your spontaneous thoughts on what home is to you. Reading your comments is so enjoyable. Even though I've said it before, those comments or reflections you leave are always the best part for me.
Heidi and I have now attended the first two lessons on learning the basics for Rally O. Heidi is a bit more advanced in terms of behaviour and basic learning from the work I've been doing with her but it's certainly good for me to find out what sort of core techniques are necessary at the beginner level. She's doing incredibly well being in a room with other dogs, and is showing me full attention most of the time. One of these days I'll try to remember to get hubby to take a short video for you.
Roam new roads. And now my first report of sorts regarding my focus in 2017 on roaming new roads. To give me a shot in the arm, I attended and have committed to a local photography group. We had to submit our favourite 10 images we each took in 2016. One of the leaders put them all on a slideshow so it was interesting and inspiring to see everyone's favourite images. The group gets together at least once a month to go on a photographic outing. These images are shared later in a gathering where technical aspects are shared by some of the more advanced photographers. My inspiration is already amped right up simply by attending this first meeting. Our next assignment is long exposures which I have done very little of — in fact, I can count on one hand the number of times I've actually done long exposures. I've read up and look forward to doing some experimentation both at night and in daylight. I've finally begun to roam a road I've always wanted to travel. More roads yet to come and in many different directions.
In the spirit of roaming new roads I'd like to offer you these for consideration, whether to explore, capture, live, or watch:
Logpiles turned into awesome art
Watch others who roamed new roads in 2016 RNR Bucketlist: A toast to 2016
5 Canadian cities that come alive in Winter
Until next Monday my dear lovelies, may you gather with friends, laugh at life, and be amazed at new discoveries.