"Stay low, stay quiet, keep it simple, don't expect too much, enjoy what you have." — This statement by Dean Koontz sums up my philosophy of living a simple life. I'm continually saying, "Enjoy what you have." I think we all have some kind of mantra that we either live by or are known by.
"The whistling dawn, the sussurration of the leaves, a honking goose, and then a sentimental confab at the Solid Rock Gospel Church with a wounded soul who poured his heart out …" — Edward Hoagland, In the Country of the Blind. I can imagine it!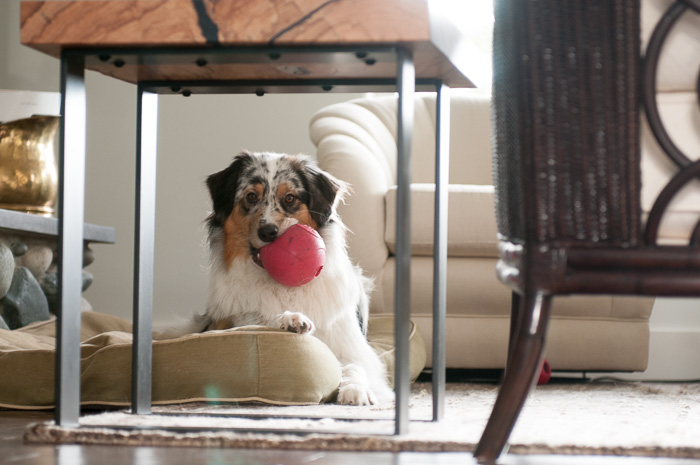 Heidi says, "hi" even with her mouth full
After finishing the Trenchcoat socks the sock fairy somehow cast on another pair. This time for her amazing son.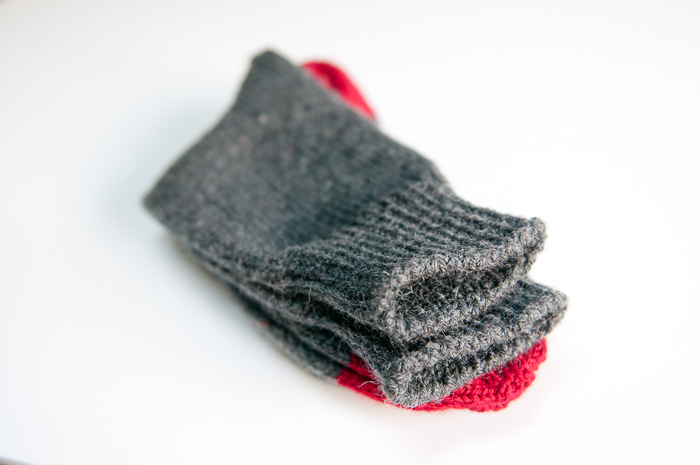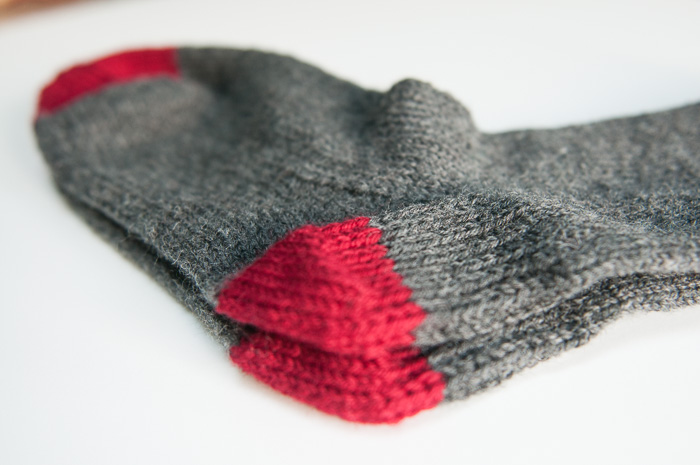 I loved knitting these husky socks. In fact, as I was knitting them I kept thinking how cozy they would be as house socks for me to pad around in this winter. I have lots of yarn leftover.
"Knitting is clothing made in spare moments, or round the fire, whenever women gathered together… It's something to celebrate — clothes made in love and service, something women have always done." — Anne Bartlett, Knitting
A dear neighbour and friend gave me a luscious skein of yarn last year which I made into a shawl but the shawl was a tad small. Not wanting the gorgeous yarn to go to waste I frogged the shawl (unraveled the whole thing), rewound it into a nice ball and decided it was meant to be socks. Although I much prefer knitting socks toe-up, I'm trying out a new pattern so have to be open minded with this cuff-down version.
Yarn: Sweet Fiber Yarns Super Sweet Sock in the colour way, Seastorm.
Of course, as you'll see, I had to jazz them up a bit too.
If you're thinking that in my spare time I must be doing nothing but knitting, I actually have written a few letters too.
I've been enjoying picking up unique and quality gifts at the local Christmas fairs (I even bought myself a pair of hand knit socks made by another knitter). Last year I didn't buy a single gift outside of our area, Qualicum Beach / Parksville. I'm trying to do the same this year.
I love that by buying handmade instead of from a large corporation, an actual person benefits. It also contributes directly to our local economy.
This weekend when I attended the local Christmas fair, with an abundance of handmade local goods, I received a bonus: I won a door prize (and it's handmade too!) so buying handmade had a wee karma surprise come back to me.
Now for a few interesting ditties to share. Let's start with this thought-provoking article, All the Things You Don't Need for a Perfect Holiday.
Bryant Park Knits, a knitting group for all levels hosted by the yarn shop Knitty City, draws mostly women. But the men who attend say they love the craft. Watch the YouTube video.
https://youtu.be/bJwGTZJBCeg
Or if you like things with more impact, check out these male prisoners knitting.
Until next Monday may you embrace simple pleasures with family and friends.