We have winners. The odds were incredibly elevated for the book draw. Winners of the two books are Steph Y and Melanie W. Your books will be on their way this afternoon.
For those who read last week's post, these lovely ladies had their names drawn and the only 'cost' for the book is to write a letter — to anyone at all. Simple. Thanks for participating Steph and Melanie. Enjoy.
To send a letter is a good way to go somewhere without moving anything but your heart.  –Phyllis Theroux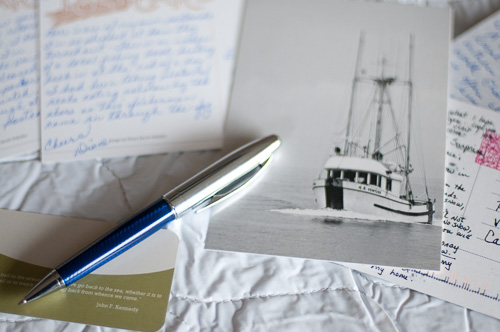 Now on to the Heidi updates. Last Monday was one more breakthrough with Heidi: I wish I had a video to share of this. Monday was recycling day in our neighbourhood so my husband was gathering all the various containers for setting out for curb side collection. Heidi was following him and watching all the gathering. One of the items we save for recycling is a waxed paper "bowl" in the freezer which we fill with food items that are not green (includes things like bones, bits of fat, fat drippings, bits of leftovers, etc). That container smells pretty darn good to a dog even if it is fresh out of the freezer. My husband had it sitting on the floor beside the other containers and was about to shuttle them away. Heidi went right up to the yummy frozen bones, etc., gave it a quick whiff and instead of grabbing for what was easily grab-able right on the top, she backed up a step, sat, and looked up at my husband! IYC (her Its Your Choice training)!! I told her "yes" and quickly grabbed a treat for her. I'm so proud of her.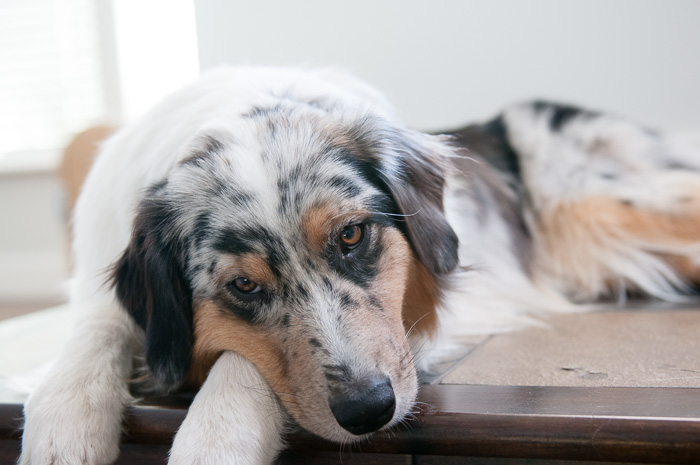 And since then we've had more progress. What a difference training and building confidence makes. You can see how calm she is now — her stress has melted away like a spring thaw. I've been doing 2 or 3 training sessions per day with Heidi since we got her (5 weeks ago) plus we've been doing some very specific confidence building, as well as some much-needed socialization with dogs and people. Friday night on our bedtime walk and Saturday at the beach we saw a huge difference in her demeanour and overall behaviour. She's even beginning to walk on leash (don't forget that was something she didn't do when we got her) and it's mostly loose leash walking. She still has issues to work through and much more work on that loose leash walking, but I'm concentrating on the positives. Building her confidence has been the most vital part of her adjustment — she's not the same dog she was when she first arrived. She's greatly improved. Quite proud of the changes and how eagerly she faces all the challenges she's had to overcome. The only thing I'd really love to get behind us is the potty training.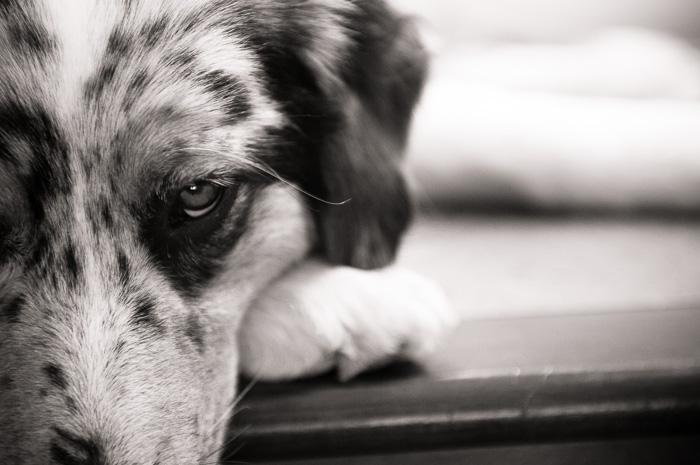 I've had two people ask if I still post over at Flickr — you bet.
If any of you have some interesting book recommendations, or perhaps a lovely story to share about anything at all (dog related, a great summer experience, a breakthrough of any sort) why not share it? I'd love to read about it.
Until next Monday may you read a fine book, receive a surprise letter (or write one), and may the sun shine on your heart & home from the inside out.