Who doesn't like giveaways? Who doesn't like free books? Who still writes letters? oops, I heard a groan for that last one, I know I did.
I am planning on giving away a couple books. Now these are not brand new, off the shelf, but they have been read and enjoyed sometimes by a few different people. I was planning on taking them to my favourite used book store to exchange for a couple other used books that I have not yet read. But then I thought, hmm I wonder if anyone might like to participate in a draw for these books. So here's the deal. There is a tiny little cost for the books, but I do not want money; I want you to promise me you will write a letter. You'll be on your honour here because I will have no way to know if you really did do it or not but I want you to sit down and write a letter to someone. You decide who the recipient of your letter may be. It could be a parent, a sibling, one of your children, a favourite aunt or uncle, a cousin, a friend who lives far away, anyone. So I send you the book and when you receive it, I want that letter to go out your door. Okay?
All you have to do is leave a comment below saying you'd love to receive one of the books, and if you have a preference for one or the other. I'll do a draw on Friday and get in touch with you by email so you can provide me with your mailing address. Next Monday, I'll share who the two lucky "winners" are and we'll all be sending you letter-writing vibes to be sure you hold up your end of the bargain. If you know of anyone else who might like to participate, send them over.
Here are the first two books I plan to give away.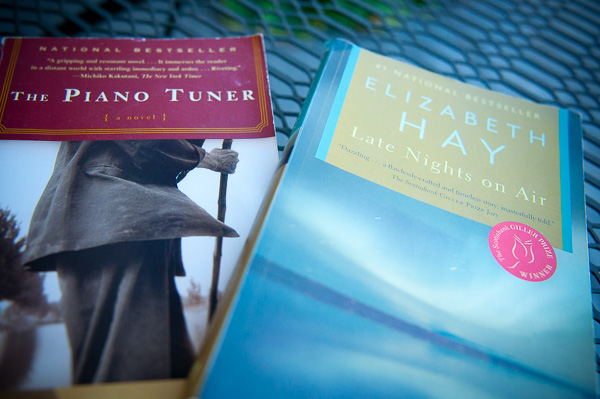 Late Nights on Air

by Elizabeth Hay. This won the 2007 Giller Prize, 2008 Libris Award for Fiction Book of the Year among a couple others, if any of that matters to you. The opening line, "Harry was in his little house on the edge of Back Bay when at half past twelve her voice came over the radio for the first time." And the author tells us this is how she writes, "I like to write with a pen or pencil on paper. I have a rocking chair with wide arms in my second-floor study. I sit in the chair, place a piece of plywood across the arms and write on that flat surface. I got the idea from reading about Virginia Woolf, who worked the same way in the grubby back of the house where they printed the books for Hogarth Press. It gives me much more peace of mind to work this way than directly in front of a computer screen."

The Piano Tuner

by Daniel Mason (many have read this one) is a historical novel set in 1886 British India and Burma. The first line in this novel, "In the fleeting seconds of final memory, the image that will become Burma is the sun and a woman's parasol." The publisher provides this synopsis: In 1886 a shy, middle-aged piano tuner named Edgar Drake receives an unusual commission from the British War Office: to travel to the remote jungles of northeast Burma and there repair a rare piano  belonging to an eccentric army surgeon who has proven mysteriously indispensable to the imperial design. The Piano Tuner launches readers into a world of seductive, vibrantly rendered characters, and enmeshes them in an unbreakable spell of storytelling. … okay so that's the publisher pumping it up so you'll read it 🙂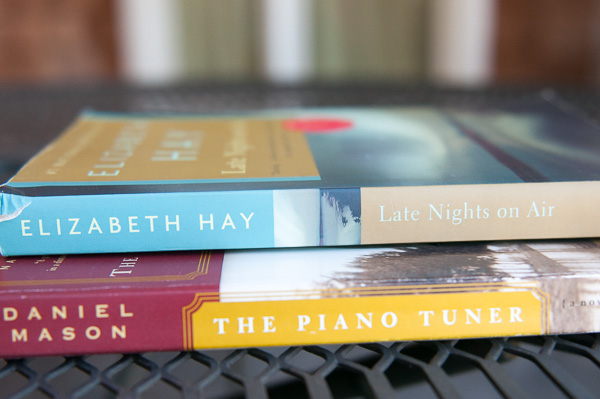 So all you need to do is leave your comments below, let me know if you have a preference for either of these two giveaway books, and think about who you're going to write to — feel free to start writing your letter now if you like. No need to wait!
Until next Monday get your favourite pen ready, find a nice sunlit corner, and think about how delighted the recipient of your hand written letter is going to be!
PS: Fancy paper is not required for letters — that old notepad or some lined school paper is equally useful for writing a letter. It's the writing of the letter that is much more important than what it is written upon.