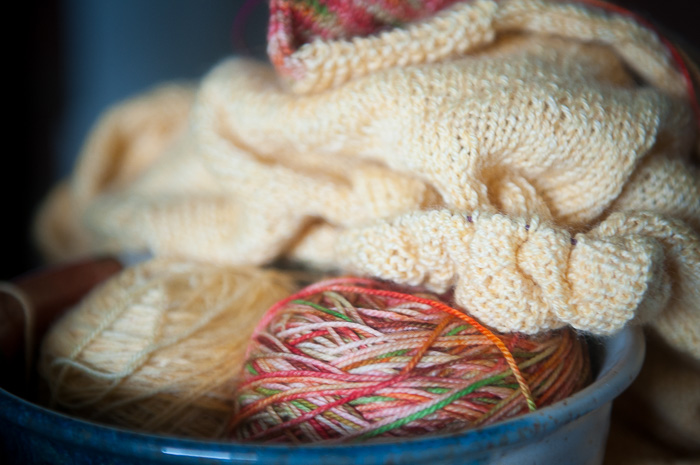 Charlotte Eriksson was quoted saying, "… so this is for us. This is for us who sing, write, dance, act, study, run and love and this is for doing it even if no one will ever know because the beauty is in the act of doing it."
That can apply to anything we do or create, including knitting. My Antler pullover, shown above while in progress, is finally complete and I've been wearing it. It turned out a tad too large at the bottom but that was my fault and not that of the pattern. You see, because I'm fat, I thought I'd ignore the waist decreases which in turn also keep the balance of the bottom a tad more form fitting. Bad idea. I won't do that again. Anyway, I'm really quite delighted with the sweater even though it took me two months to complete!
I especially appreciate the unique construction (it's entirely seamless although it has clever faux seams); the garter sections are a nice design feature, and I love the extra long sleeves with the garter cuffs.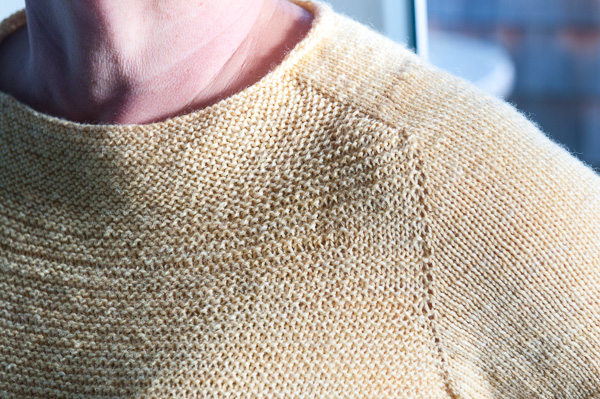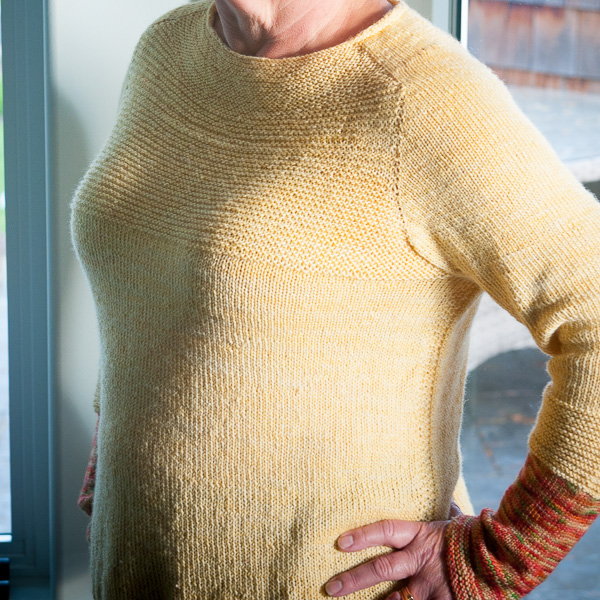 Since I will only knit one item at a time, I'm now way behind on Christmas knitting. I may have to reserve some planned gift knits for birthdays rather than Christmas. As soon as I finished my Antler I dug out some  leftover yarn from the work socks I made for hubby and made myself a nice squishy headband to wear for those cool morning walks. The headband turned out so nice even though it's easy-peasy garter stitch that I immediately drove to my local yarn store to buy something pretty for making a squishy hat for myself. Details about yarn used will be at the end of the post for any knitters who may be interested or simply head to my project pages at Ravelry.
"So go create. Take photographs in the wood, run alone in the rain and sing your heart out high up on a mountain where no one will ever hear and your very existence will be the most hypnotising scar.
Make your life be your art and you will never be forgotten." — Charlotte Eriksson
Yarns Shown:
Antler. Main Colour: Yarn Indulgences BFL Silk fingering in colourway Banana (Canadian made);
Contrast Colour: Zen Yarn Garden Serenity 20 in colourway Hibiscus (also Canadian made).
Headband: Cascade 220 Superwash in Light Brown.
Yarn for W.i.P (squishy hat). Madeline Tosh Merino DK in colourway Wilted Rose (isn't it a gorgeous colour?!)
As you can see, I've been on a roll posting oodles of blog posts lately. Must be a phase I'm in! 🙂 Don't hold it against me; I'm sure it's a temporary condition.