"The most wasted of days, is one without laughter." — e.e. cummings
I don't know yet about today, but I can guarantee that we laughed enough the other evening to last us at least a week of those days. We attended an incredible Pirate Party where everyone (all were retirement aged) was dressed up as pirates, some so realistic you'd have thought it was a theatre production! The hosts, the most creative of us all, had themed food and signs but even moreso were their props. A giant patio storage bin became an oversize treasure chest complete with (real) anchor, 'jewels', 'gold' and such spilling from within. There literally was a plank that had to be walked (with a threat that anyone arriving without pirate attire might have to walk said plank). Even the prizes were all pirate needs (rum anyone?) or 'gold' cannon balls. Two ships, carefully anchored to the bottom of their pool, rode the waves all evening long. There were boat races (on the pool), water fights — oh my, were there water fights! Some of the pirates needed a change of pirate clothes after all that. All in all, it was such a fun evening. If only our adult kids (or grandkids) could have seen the antics.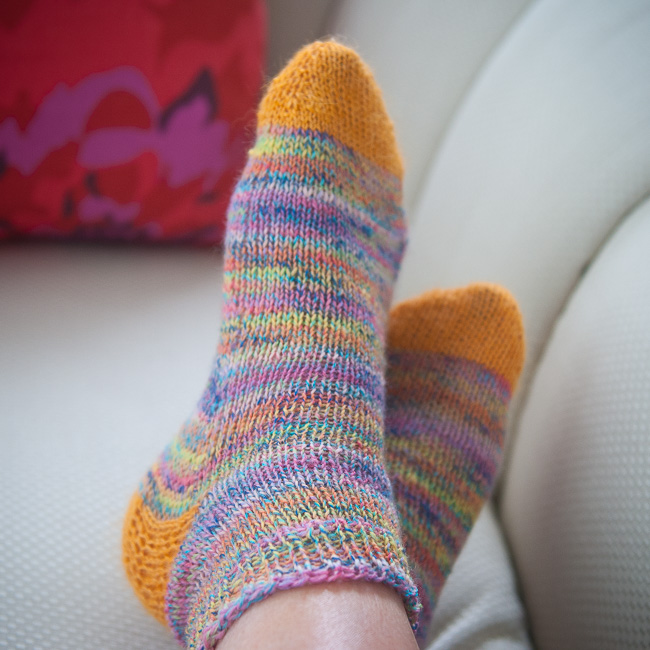 Let the bells ring and the banners fly. Feast your eyes on my second pair of socks! I love these ones. Perfect fit, cute colour, and I made them 🙂  I was tickled pink when I discovered that Andi of My Sister's Knitter actually linked to my first hand knit socks in her recent blog post. Thank you Andi — between you and my lovely neighbour Michele, you two are the inspiration for me finally making socks.
I'm already on to the next project — a Nordic Wind shawl for the upcoming chilly winter days. I haven't yet decided if I'm going to keep it for guests to snuggle with or if I'm going to gift it. I'll decide once it's finished. Speaking of which, I'm amazed how quickly a project knits up when using large needles and bulky yarn, especially after using fine yarn and tiny needles for several projects.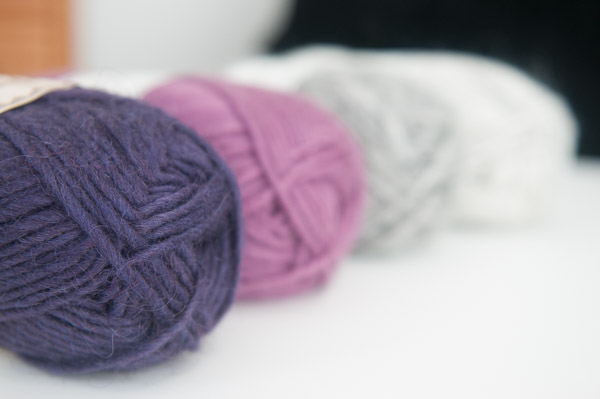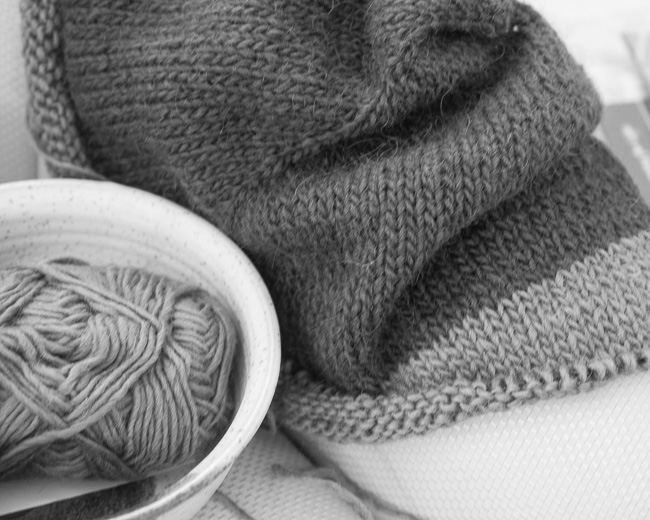 With every single item that I knit I'm learning something new with each project. I'm also so pleased that I made the switch to Continental style knitting. It's more efficient, easier on the shoulders, and a bit faster. Not that knitting fast is something I aspire to. Besides, I enjoy the pleasure of knitting — it's calming and contemplative. Plus, at the end I've made something someone can wear.
My husband is deeply involved in learning and playing bridge in his retirement. With each of the groups he plays with, they take turns either hosting or bringing a "lunch" to share. We've made a bargain that I feel is more than fair so I am still free to do the things I am involved in. That compromise is that he is responsible for making his own "lunch" (it's really an assortment of cut up snacks, mostly savoury). But there are times when he'd like to have something sweet, other than fruit, to offer. So I don't mind making the occasional batch of cookies or cake for him. Yesterday I made a chocolate cake for him to take. This is a recipe I've been baking for decades (originally from my mom) and it's so moist that it's always a hit. It's also been decades since I've made icing to top any of my cakes. You're likely saying to yourself, "How weird is that!?" The only exception is when I make carrot cake or ginger cake — both get a smooth cream cheese icing. Because I realize so many people are used to icing on cake, I compromised and made an apricot glaze to coat the cake. Hardly anyone tried the cake that John took with him to bridge — I guess they can't imagine cake without gobs of sugary icing. Their loss; our gain (gain in calories too!). Here it is before adding the apricot glaze.
I'm leaving you with a glimpse of a busy little bee I captured by camera a few mornings ago. It would slip inside each little hosta flower and emerge with pockets full of pollen including all over its fuzzy little back end.
Finale to this post: I may be the last person on earth who has seen this. But, just in case you too have not yet seen the Theatre Group from Hungary known as "Attraction", I want to share their amazing art with you:
Attraction Shadow Theatre performance
And, if you wish to skip all the preamble, move the red slider bar to the 1:00 minute mark. Enjoy.
May you enjoy a productive week/weekend enjoying the simple pleasures life has to offer.