"I find people interesting. People trying hard are interesting. People with a passion are interesting – whether it's old cars or taxidermy or knitting." — Clare Balding. (I agree with you Clare)
I did it. I made my own socks. I've held off making socks because I've been intimidated by the many knitters who grumble about doing short rows (for the non-knitters out there, that's basically how you shape the toes/heels). I buried those intimidations and dipped my toe into sock making. This was a project filled with firsts for me: First pair of socks; first pair made toe-up; first pair socks made two-at-a-time (although I've made mittens two-at-a-time); first short rows; first eye-of-the-partridge heel; first time using the seamless Judy's magic cast on.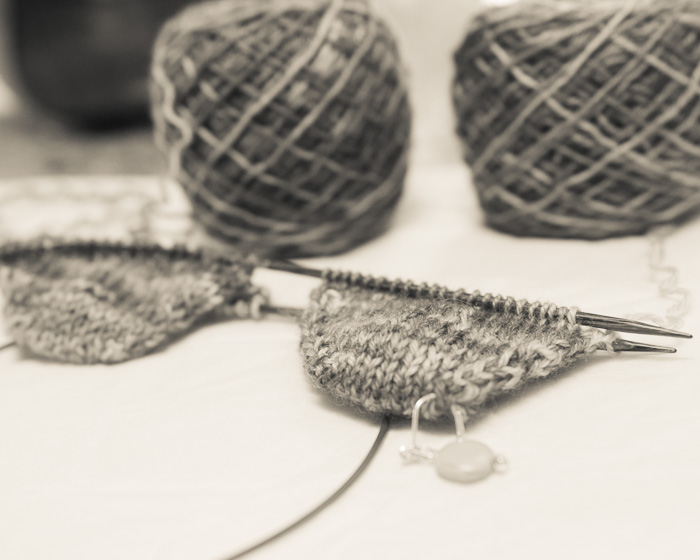 I think they turned out not half bad and there are no mistakes — at least none that I'm aware of! I'll admit they are a tad loose but I'll use a smaller needle next time and that will make a difference. Since I strongly dislike using double pointed needles, I much prefer using the magic loop method (two needles; one long cord). And a note about the colour: You'll see each photo of my socks is either black and white or a varied tone of black and white. That's because I didn't care for the colour of the yarn and I really, really did not like it as I was knitting and especially once it was complete. I dislike the colour so much I plan on dying the socks. That will be another first for me.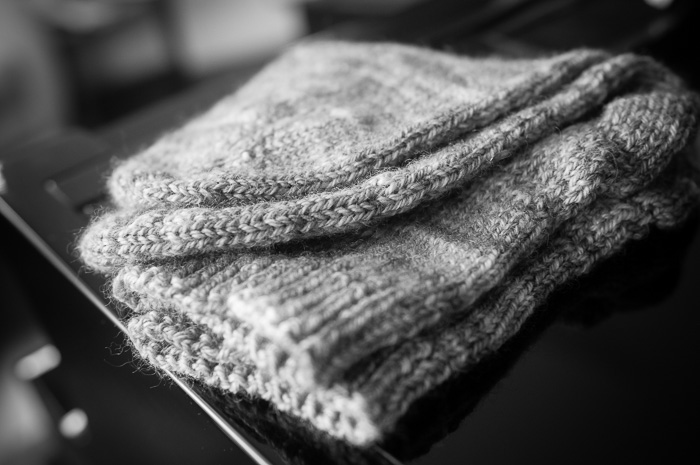 Besides learning some new techniques, I've also learned that I really do not care much for variegated yarns, at least the ones with high contrast. Yet, I do enjoy the self-striping yarns. I'm full of conundrums it seems.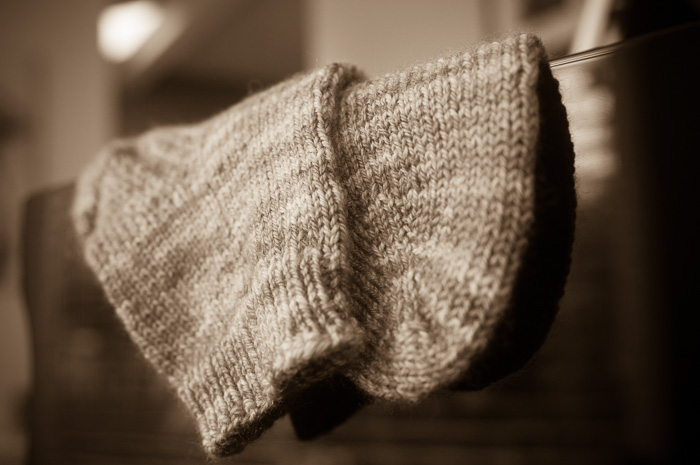 For knitters out there, here are the stats:
Yarn: Yarn Indulgences BFL Sock in colourway, Water and Sprouts
Pattern: Basic Toe-up Socks with a Heel Flap by Liat Gat
I'm quite excited to actually begin another pair. I'm also seriously thinking socks would make a great gift item so there are more socks in my future for sure.
"Knitting is clothing made in spare moments, or round the fire, whenever women gathered together… It's something to celebrate–clothes made in love and service, something women have always done." — Anne Bartlett
Do you enjoy a challenge? Does a challenge motivate you or intimidate you?