Mohair blanket is finished.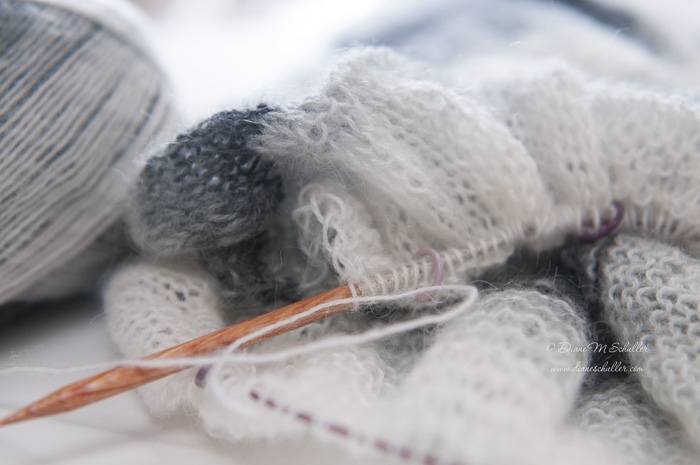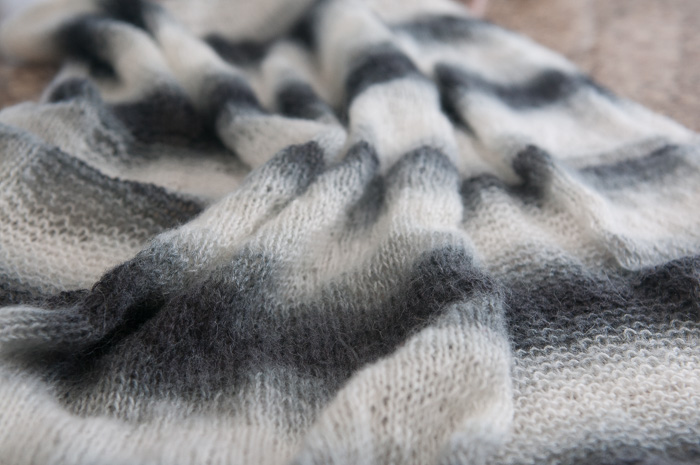 I was inspired by a gal in Germany who goes by the online name space curry to create and knit this lovely blanket. When I first saw her lacy, lofty, delicate mohair and silk blankets, I knew I wanted to make one too. Here's my first. More to come for sure. I am delighted with how it looks & feels, plus it's also nice and warm despite being so lightweight. This one has a minor mistake so it's going to stay here and be used in our guest room.
Recently when I go to my online photo catalog, one of the last photos I took of our dear Pearl (for those who don't know, she died suddenly a short time ago) is sitting alongside one of my blanket photos. I can't help but notice that the blanket resembles her coat so much both in the colours but also it's texture. So I've named this my Pearl blanket.
In 2014, my first year knitting, I waited until October to begin knitting for my family's Christmas presents. I'm starting now so I can take my time and have things made and on hold, ready to wrap for when the season arrives in 2015. The first  gift I'm working on is a funky little Hitchhiker scarf for one of my granddaughters in a fun coloured yarn by Madeline Tosh.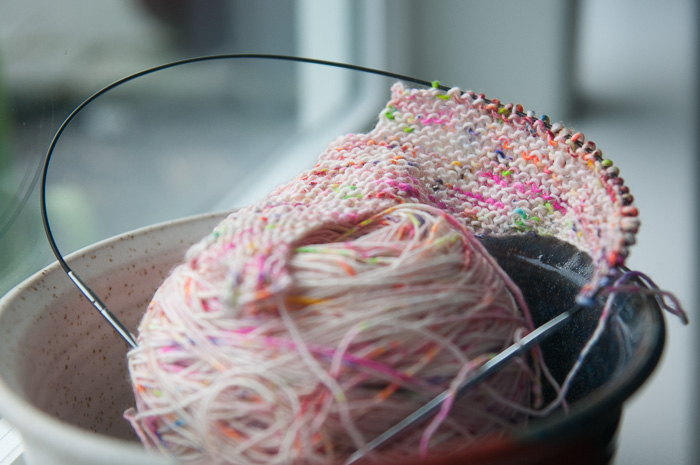 When I first started knitting last year, I was surprised to learn just how expensive yarn costs. Originally I thought I could make all sorts of gifts for a fraction of what they cost in the store. Not so. A cashmere scarf I made for my son, for instance, cost over $65 plus tax just for the yarn. And this scarf for my granddaughter cost nearly $30 for the yarn only — in the store cheap scarves can be had for under $20. But none is as lovely, unique, or made with such quality and love as this. So, I simply dismiss the cost and carry on.
Oh and speaking of costs, all you knitters out there will be green with envy when I share this next little tidbit with you. I recently watched a promotional video by Staci of  Very Pink Knits demonstrating the newest line of interchangeable knitting needles by Knitter's Pride. I've been saving so I can upgrade to something really nice that will last the rest of my lifetime so I ordered a set of the Knitter-s Pride Nova Platina Interchangeable Sets, Deluxe Set
. I picked them up a few days ago at Mad About Ewe and the Hitchhiker scarf is the first project for which I'm using them. A knitter's dream.
For the rest of my friends and family, I owe you some non-knitting content. We've already begun getting a head start on preparing our yard for the May garden tour. We've moved a few trees, a few shrubs, got rid of one shaggy misfit, and rearranged some of the perennials. We aren't done yet but what a difference those few changes have already made. I'm going to move a few more perennials yet before the warm weather rolls in. We also had a load of fresh mulch brought in and spread it in a few strategic locations — now that looks spiffy. I still find it so amazing how early plants bloom here on the West Coast. In our yard, at this very moment, these are the items that are actually in bloom:
Helebores, winter heather, snowdrops, crocus, one pretty pink rhododendron, one of the camellia trees, plus the first daffodils look to be ready to pop within days. I know, I need to get busy taking photos again. I've been practicing indoors getting reacquainted with some of my technical skills. I realized I had not used the back button focus for ages, so actually had to look it up before I could change my camera settings. All the recent photos I've taken of knitting and yarn have been done with the back button focus. I'd like to refresh and practice some long exposures again as well. Perhaps I'll get some practice in this week plus take a few photos of some of the blooms in our yard.
Oh yes, and one more little thing. I realize that with me not keeping current here, I've missed sharing my thoughts on several of the recent books I've read. I may simply do a dedicated post next time sharing books I've read along with my thoughts on them. Until then, however, I do have something to share. I'm currently reading Shantaram: A Novel
and highly recommend it even though I am only at about the 200-page mark in the novel. I'm really enjoying the story and love how well it's written. I promise to give more information once I actually finish it but gosh, I am really enjoying it so far. It's my selection for our book club and it's bound to provoke a lot of discussion.
So now it's your turn. What my dear friend is the most creative thing you have ever done? Or, if you prefer, what is the most memorable novel you've ever read, and why has it been so memorable?
(PS: I can also be found over at Goodreads if you wish to see what I think of books I've read, good and bad.)
"What I say is, a town isn't a town without a bookstore. It may call itself a town, but unless it's got a bookstore it knows it's not fooling a soul." — Neil Gaiman, American Gods