"Happiness is not a goal…it's a by-product of a life well lived." ~ Eleanor Roosevelt
Fair warning: this is one of the longest posts I've done so feel free to skip over any/all. One of the reasons I've continued with my photo journal / blog is because some people I know like to look in and see what I'm up to, especially now that we've moved onto Vancouver Island. I often feel like it's boring to keep telling everyone what I'm up to or sharing some of the beautiful sights we get to see everyday around here. And then I try to remind myself that is the very reason some like to stop by — you get a glimpse into a life lived differently. As we all do, each of us has something different we do and experience whether it's daily or sporadically. So I shall continue.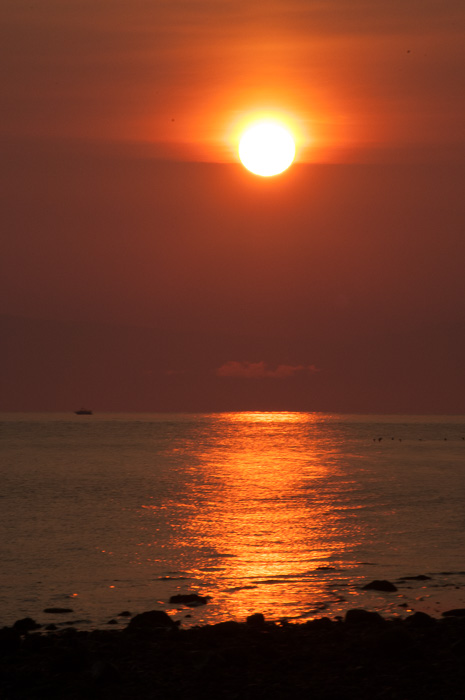 Although I'm still spending all kinds of time outdoors each day, I'm beginning to spend more of my evenings indoors. Guess what I've been doing during those evenings? Knitting. I've made my first shawlette (just a smaller version of a shawl) and the lace pattern along its bottom is what's known as feather & fan — I love how easy it was and how it turned out. I did have some mistakes I made in the eyelets that go up the spine but I wasn't going to rip the whole thing out. So my Multnomah shawlette is complete. Even with a few mistakes, that's not bad for someone who's only been knitting a few months – no?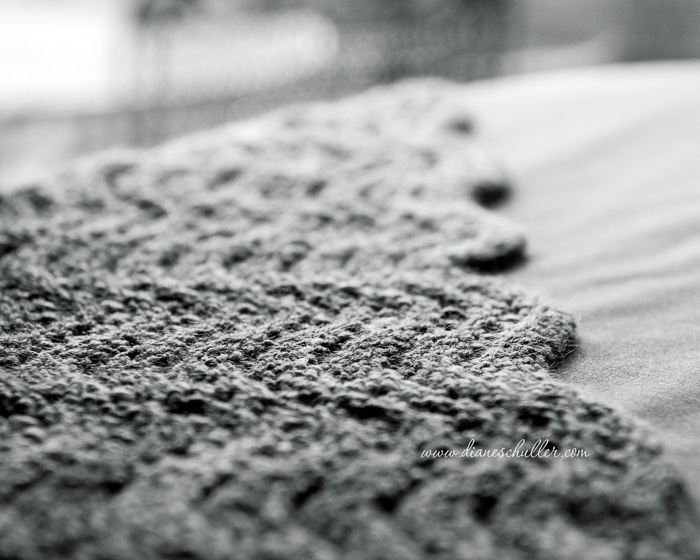 So now I'm on to the next project. It's a full size shawl by the name of "Nae" and I adore how it's knitting up. When I had the first 18 to 20 rows knit, I wasn't crazy about how it was turning out so I promptly 'frogged' it and started over using two yarns held together — I love the resulting fabric it creates.  It not only looks so nice but it feels so soft and smooth. I can hardly wait to wear it.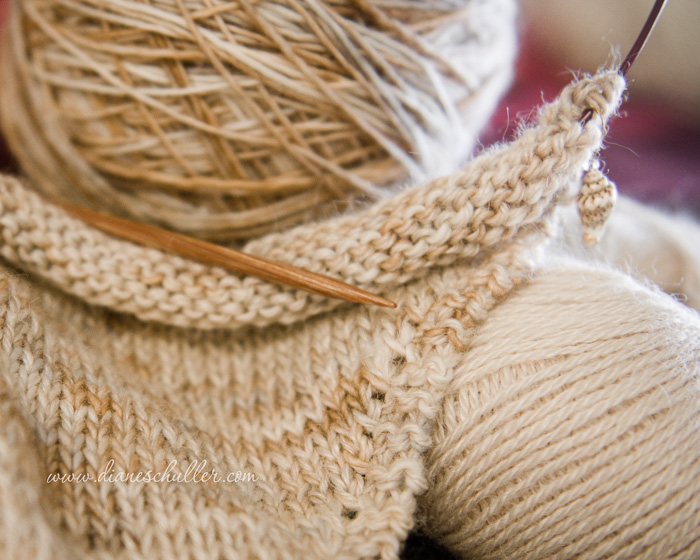 I can see how easily other knitters end up never finishing several of their projects. There is such a strong temptation while knitting away on something to want to get started on the next project or the  next or the next. It's for that very reason I am (so far) holding firm to finishing one project at a time and not beginning another one until the current one is finished. The Multnomah shawlette is going to be donated to one of the local organizations for their fundraiser. The Nae is just for me! And I already have yarn and patterns sitting and bouncing in anticipation for me to get started making Christmas presents. I'm going to have get busy knitting! The days of sitting and knitting beside the pond will soon be coming to a halt too.
Although the weather here has been absolutely divine, I realize we are definitely well on our way to autumn. The leaves are beginning to turn colour, others have already begun to fall — one of my favourite trails to town is all crunchy underfoot. Since I didn't post much through summer, I may end up posting some of my "summer past" photos because I had some lush flowers this year. Although I wouldn't move back up north for anything, the one thing I truly do miss is autumn on the prairies or up north. Autumn has a lovely earthy scent there where that just doesn't occur on the west coast. I also miss the twice daily flyovers by the Canada geese honking and carrying on in their readiness to head south for winter. Funny how little things like that are so meaningful. For those of you living where autumn has that smell — take in a great big deep breath and revel in it, just for me.
One more little note about autumn … in a word. Hiraeth, (noun) a homesickness for a home for which you cannot return, a home which maybe never was; the nostalgia, the yearning, the grief for the lost places of your past. (Sorry I do not know to whom to attribute this lovely 'definition'.)
I've been busy with some of the committees on which I serve such as organizing ladies luncheons, local events (I've been working on setting up a tour of a local cannery for newcomers), our monthly supper club, etc. We've also been doing more entertaining though we've slowed down a tad in the past two weeks. Just as summer is fading so too am I in terms of needing a bit of a break.
I'm headed out to the interior of B.C. to go visit my dad who is again in hospital. When I return I also need to spend at least a full afternoon catching up on grooming the dogs. They're looking quite shaggy lately. That's one job I have never cared for but it must be done.
Oh hey, I have to do a post about books too — I have a couple good ones to recommend. I should also tell you about my little cry over some struggles I've had with the piano. See, life still has its bumps here and there.
Bumps happen and despite a few here or there, that Eleanor Roosevelt was so correct about a life well lived, was she not? It's the bumps that make everything else look and feel so darn good.
Tell me, what are some of your favourite memories or experiences around autumn?