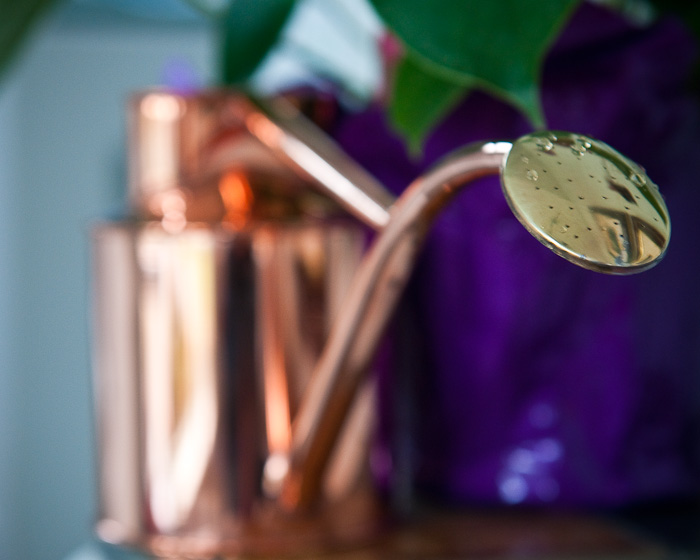 Observed along the way: She walks along the roadway, a clouded afternoon, the sea air warm for an early March day. Her smile contagious and given to her soul's inner thoughts. A middle aged couple, chatting freely, the woman's arms flitting in sync with her thoughts, he smiles knowingly. Another woman approaching briskly, head held high, her smile shines from a distance. As we pass, we nod, each of us with our secret thoughts blooming through our smiles. The day has been charmed by smiles.
"Sometimes your joy is the source of your smile, but sometimes your smile can be the source of your joy." ~~ Thich Nhat Hanh
Brass Rose: I have always appreciated my two Haws watering cans even though they are the modern heavy duty molten plastic version. The spray heads, or rose, always produces such a lovely soft-as-rain flow of water, they are easy to carry and non-spill. I also have always found copper, whether bright and shiny or well patinaed to be very appealing, something like jewelry. The other day we were in Victoria to see the neurologist and after my appointment we went to Lee Valley to pick a few things up. My husband gifted me with a beautiful copper watering can for my indoor plants. The copper can has a heavy gauge brass rose that really grabbed my attention once we arrived home and I put it to use. But that got me to wondering, where or how the spray ends became known as "roses". A lovely term indeed. I have been unable to find the origin of that name though I did learn that Haws of England patented their design in 1886. If you happen to know the origin of the name "rose" for the spray end of watering cans, of which Haws seems to be the ones to use that term, I would dearly love if you'd share that with me.
Knitting: Now that I finished my first knit lace project (the white scarf you saw in progress), I'm so thrilled with it. I began knitting a lap blanket for the guest bedroom but had to start over twice because I lose count on which row I'm doing (I think that's part of the residual issues from my stroke) and the pattern goes all wonky. So, after ripping it out twice, I decided to start another quick project before trying again. I started an infinity scarf that will likely be a gift though I don't know for whom just yet. I got half of it done yesterday and plan to finish in the next day or two.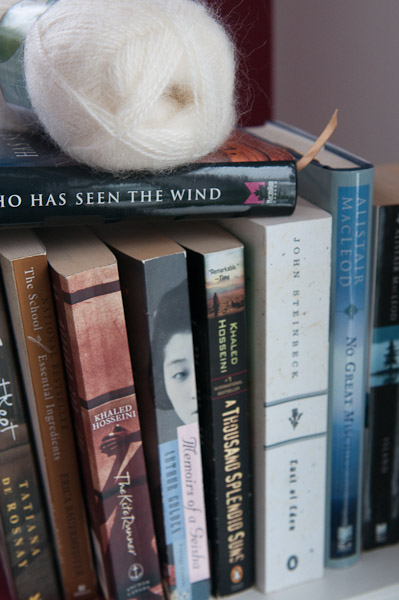 Books:
Remember in a previous post I talked about how much I was not enjoying the last book club selection? Here is a brief summation of my thoughts on the book (NOT recommended by the way) over on Goodreads. Our next book club selection is The Signature of All Things by Elizabeth Gilbert. So far so good; interesting and no complaints. Where does your bookmark rest these days?