When we bought our home, I loved a lot about it. As we lived in it a while, I realized the front entry was always shadowed and quite dark, not at all inviting to guests arriving up the driveway. I knew paint would make a big difference. The ironic thing is that I really loved the actual colour of the front door: a deep grey. But since the front entry is in shade and the roof overhangs a few feet, the dark entry did not draw visitors to the front door. One thing I knew for sure had to happen is to paint the frame white as the windows are but I thought long and hard about the colour for the front door. I finally settled on using the exact same colour we painted the tall feature wall in our foyer. Not only is the new colour lighter and more inviting, but it's also a hint or introduction to what you will find as the door opens to the foyer.
The "before" photo is not mine. It was taken by the realtor's photographer who, as you will clearly be able to tell, has drastically lightened up the photo in post processing. The colour of the cedar shingles gives it away (in reality the shingles are a richer colour: see the after photo). I'm sure it was done to make the front entrance appear less dark than it truly was.
BEFORE: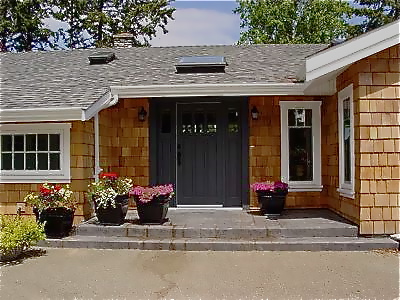 This is what the front door looks like after a simple change in paint colour and by painting the frame white. The paint colour is Benjamin Moore Normandy. I also love that the beautiful door hardware stands out now that the colour has been changed. Next year, we'll have to stain the front steps so they too look nice and fresh. It's made such a refreshing difference because there is now no question about where the door/entrance is and it's much more appealing at night as well.
Oh and I also painted a couple of the interior doors too, including the reverse side of this door — the reverse side of this door was blah straight-from-the-factory-white but now is a glossy black and it looks classy and utterly amazing!
AFTER: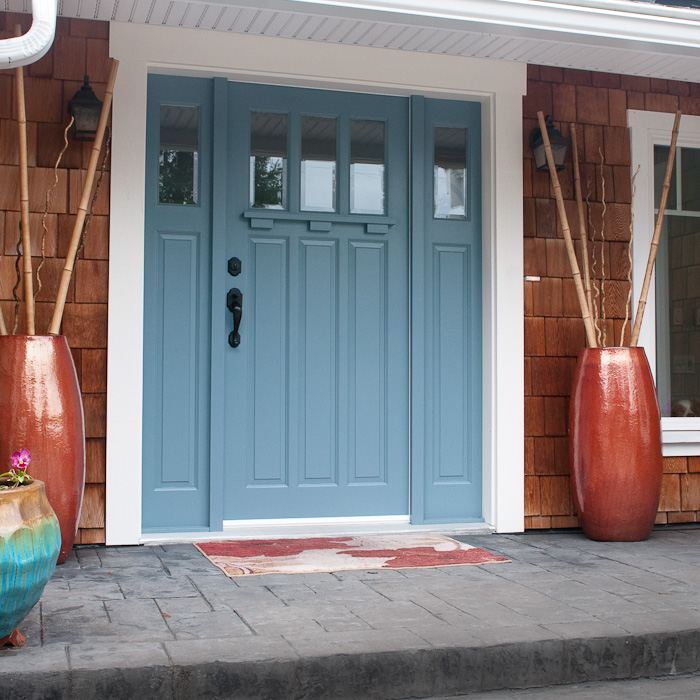 Can you see Austin, our male Australian Shepherd, peeking out the window?
Here are a few beautiful front doors of interest I have gathered at Pinterest (click on the highlighted area)
What colour is your front door? Or do you have a colour you've had in mind to transform your front entry?