At long last I'm posting some before and after photos of our kitchen. Not all of these photos are mine and the first one, in particular, is particularly poor quality. But this first one is the best to show how dark the kitchen was and what an awful colour the ceiling and walls were painted before we made some changes. In this photo the under-counter lighting is all on so it disguises how dark it actually is below.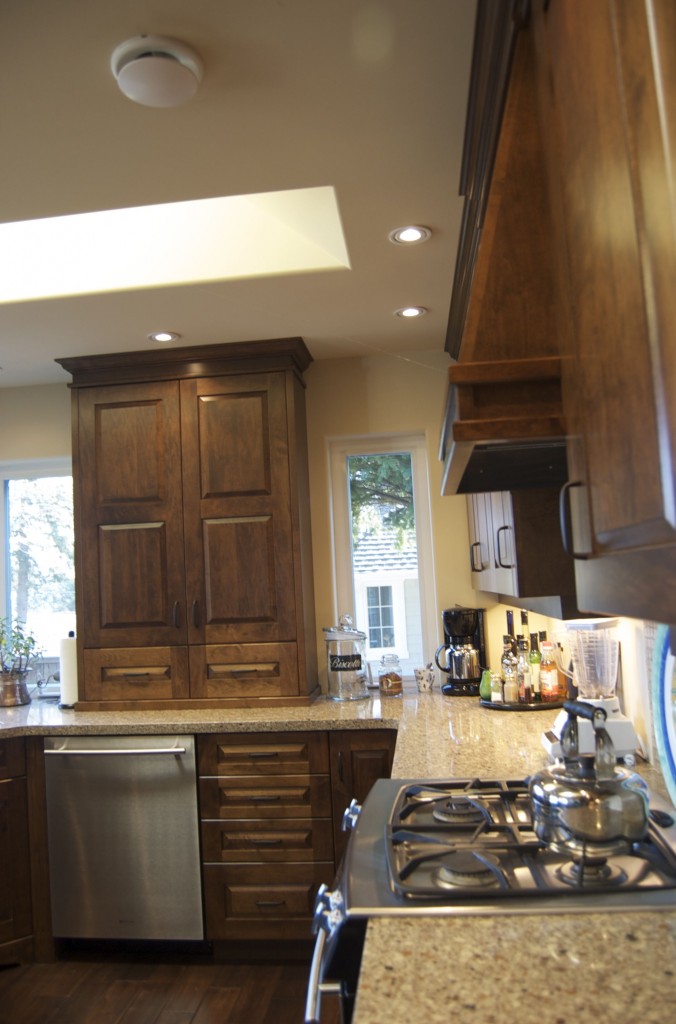 And this is another photo that is not mine (below). The colours are WAY off — I think whoever took this photo (I located it online but there was no credit given for the photographer) made some major adjustments in post processing in an effort to have the room appear much brighter than in reality. The cabinets and flooring are a dead giveaway because the wood is actually a very deep, dark brown much like genuine dark chocolate or dark roasted espresso beans. So the photo below is drastically desaturated and brightened. Even the colour of the walls appears to be off-white although the walls, ceiling and where-the-backsplash-would-go were actually all a much darker and drab yellow/beige.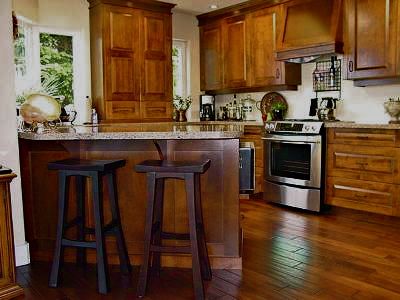 And this photo was taken the day the painters were starting to paint the ceiling and walls in the kitchen. The ceilings became white instead of dull yellow (yes, the ceilings in every room were all a dull yellow/beige). You can also see there was no backsplash, just painted drywall (same colour as the ceiling).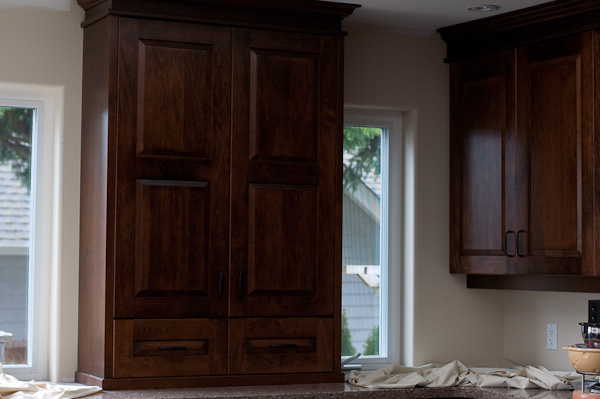 Then we had the kitchen cabinets removed and professionally painted by a kitchen cabinet company to this light off-white colour called Frappe (Benjamin Moore AF-85). What a HUGE difference this made to our very small and once-very-dark kitchen. Next up you will also see Kevin, our tiler, installing the tile I finally settled on.

And here it is, all finished. I love it. It's unique, it's nice and light, easy to clean, and has just enough sparkle so it doesn't seem dull or drab. This photo is taken without any of the under-counter lights turned on — what a difference, even without lighting on. Also, this was taken before the cabinet company came back to re-install the under cabinet valance which would discreetly hide those light fixtures you see under the cabinets. Even the cabinet guy was amazed what a huge difference it made in our kitchen with the cabinets being changed to this colour. Now the dark hardwood floors look rich and beautiful instead of part of the dark hole that it once appeared to be. It even seems larger to work in the kitchen although the only changes were colour — and adding a backsplash.
And here is one more photo showing how nice that backsplash works as a backdrop for some of my baking.