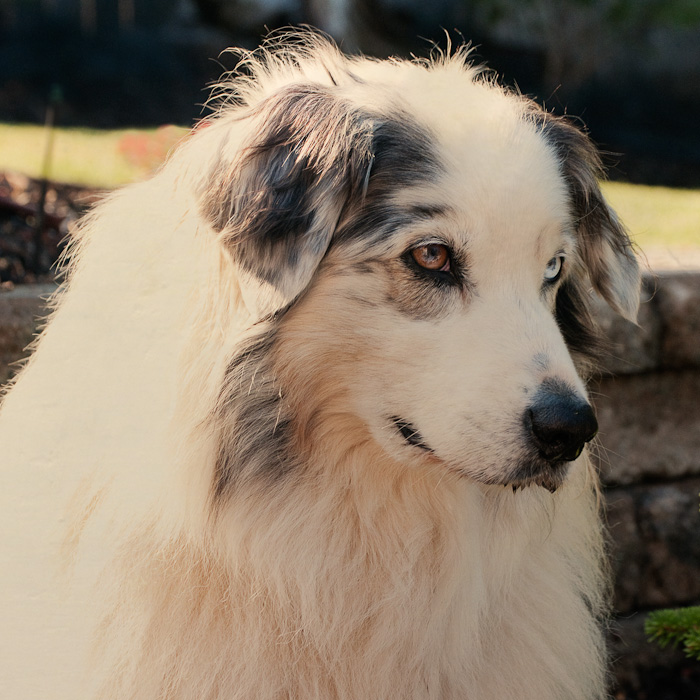 Did you know?
The Australian Shepherd did not originate in Australia. The first ancestors of the breed originated in the mountainous regions of Spain, though they later became known because of their use by sheep herders in Australia. Even though the huge popularity of this breed arose in the USA, the Americans tend to say they originated the breed, though they are mistaken — they did make the breed very popular however. Las Racosa ranch has some of the most accurate information about the breed's origins.
I've owned Australian Shepherds for about 30 years.
People who are not prepared to give the Australian Shepherd daily, vigorous exercise and mental stimulation every single day of the dog's life (for the next 13-15 years — on average) should consider a different breed (I strongly advocate taking on a rescue dog or one from a local pet shelter). If you think I'm exaggerating, visit this lady's website and she'll share more about this topic.
We feed our dogs as nature intended with a species-appropriate carnivorous diet. They are never fed kibble.
I have maintained a discussion group for Australian Shepherds since 2004 with the mandate of discussing a natural raw-based diet combined with holistic canine husbandry.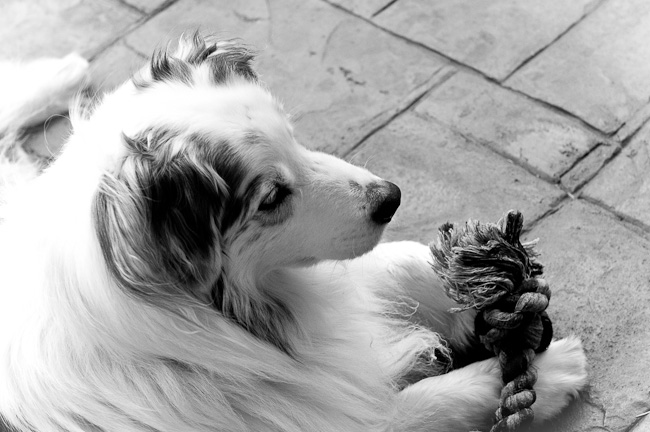 11 (eleven) year old Pearl still needs LOTS of stimulation and exercise, every day
The astute observers among you will notice that in both photos, Pearl is not at rest — she is on sentry duty. Sure she may be sitting in one photo and in a down position in the other. Don't let that fool you — she is most definitely and assuredly "on guard". Ever watchful and attentive to any movement or sound that may require her to 'get to work' and sound the alarm — early warning signal to the rest of her pack (us). Aussies, after all, MUST have a job. And if the owner doesn't train them and give them a job, they will appoint themselves a job. The sad thing is, many owners don't give their Aussie a job — and worse, no exercise to boot — so the Aussie turns into a barking, pacing, chasing, ripping, bouncing maniac. It's not the dog's fault — they simply need lots of sensible exercise and a job to do. Unfortunately most people buy an Aussie because of their beauty or because they are so intelligent. When you buy a breed as intelligent as an Aussie you must be fully prepared to spend every single day of the rest of the dogs life in keeping that dog well exercised and well stimulated (emotionally/mentally). If people who have an Aussie arrive home to a house/yard that is chewed, things ripped up, and other destruction or the dog is constantly jumping up and/or tearing around the house like a buzz saw, that Aussie most definitely is not getting anywhere near the exercise it needs — or may not be getting any exercise at all. This scenario applies to any breed of dog by the way — insufficient exercise equals destruction.
If you were an employer hiring someone to work in a toll booth for hours on end, you would definitely not hire an olympic athlete with a type A personality. The same applies to people and the dogs they choose — Aussies must have the right kind of guardians to ensure they have an active lifestyle. Aussies are definitely not couch potatoes, nor can they ever be content in a household living with couch potatoes.
As I mentioned in my last post, I've registered our 9 year old Aussie in obedience lessons. Oh yes. And that 'old dog' is learning new 'tricks'. It's doing him a world of good and he's being stimulated in a very positive way. The unfortunate thing I noticed at our last class was the absence of the pup and its guardian who needed the classes more than any other in the class. But I also noticed, the rest of the class also came having obviously done their homework. Austin is really enjoying (in addition to his regular daily exercise) the extra attention and learning experiences we've been doing since starting class. I'll keep you posted as we go along. I'm expecting he will do well and that in taking on this new venture, he will gain more confidence. Old dogs really can learn new 'tricks'.
I'd love to hear any of your dog experiences …