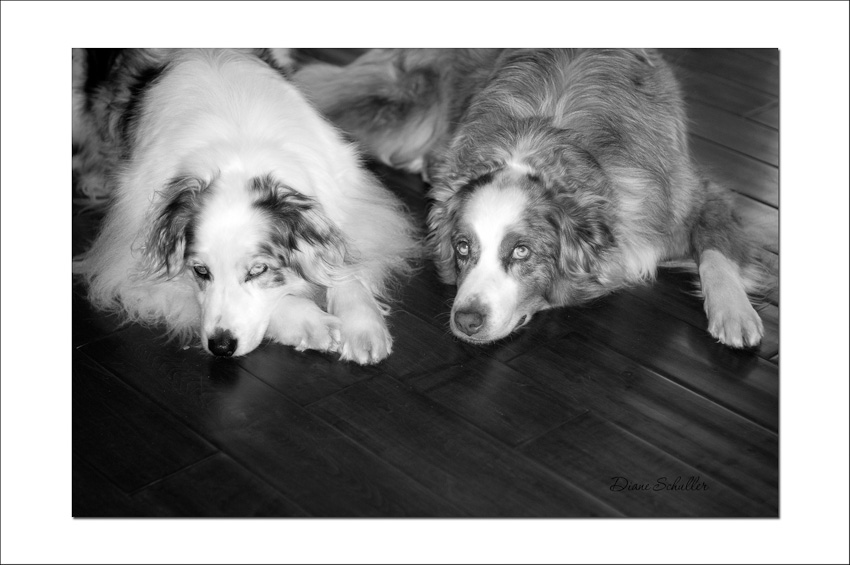 It was our turn to host Guess Who's Coming to Dinner with our local newcomer's club. Eight couples, lots of fine food, and plenty of interesting conversation. I love dinner parties.  And then up early this morning, enjoyed our cappuccino, and joined our regular dog-walking group for an exhilarating walk along the beautiful Englishman River.
"One of the delights of life is eating with friends." ~Laurie Colwin
The 'kids' (those two up there) were very well behaved while we entertained.
I don't get much time to read other blogs but sometime in recent weeks, I recall having read a really interesting blog post about dinner parties. The lady wrote how much she too enjoys having dinner parties but what really made an impact was how she makes them all different by doing "themes". I'm not talking sappy themes but one that she mentioned involved asking guests to bring something they liked or maybe it was something meaningful to them. I seem to recall each person was to bring something that could be given to the other guests and it could not cost more than six dollars. I can't for the life of me remember what blog that was or even how I happened upon it. I'd love to find it again to re-read that post so I can get all the actual details about how she does those "themes" (but they aren't really themes; they're really ways of making each dinner party interesting). If I ever come across that blog again, I'll be sure to bookmark it and share it with you (because my explanation of her dinner parties is sorely lacking in details and interest!).
So, how was YOUR weekend? And, do you have unique or interesting things you do to make your dinner parties a wee bit different?
Subscribe to Diane Jarvis-Schuller by Email