If you're a writer, or wanna-be writer you likely already know all about NaNoWriMo. That stands for National Novel Writing Month. Writers around the globe sit down at their computers or typewriters and bang out an entire novel during the month of November. Sure, it's only a draft, but it's a huge accomplishment and great exercise for those wanting to write a novel. Well, thanks to two different people who  shared something with me in recent days, I have learned about something that anyone can do: Lettermo — a month of letters.
The challenge is to mail one type of written correspondence such as a letter, postcard, or notecard six out of the seven days of the week during the month of February. For those who sign up on the website and actually receive letters or postcards, the rest of the challenge is to respond back to the letter writer as well. But you don't have to do it formally by signing up although I can see how a person could strike up some great correspondence or penpals (remember those!) by signing up. I've already begun doing the month of letter writing though I won't be signing up on the website.
When I read Mary Kowal's thoughts on letter writing I related completely and knew I had to do this. For years, decades really, I used to be a regular letter writer even though hardly anyone other than a couple of aunts and a few penpals from earlier years, ever sent me letters. It didn't matter, I loved the act of writing a letter. It slows a person's thoughts down and really causes you to consider what you're writing so that it's still relevant when the recipient receives the letter. Just as Mary relates in her blog, I too always read the letters I received twice. The first time, the moment they arrived; the second time I read the letter would be when I sat down to write a response. And I have to admit there were times, simply for the sheer pleasure of it, I'd read the letter a third time just to take it all in.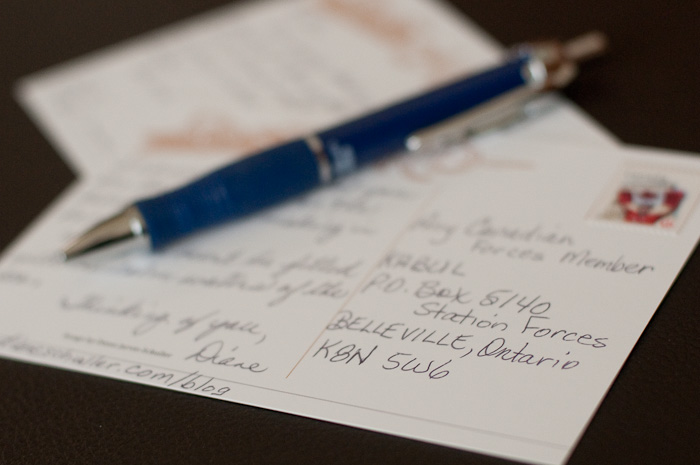 So, as I mentioned, I've taken on her challenge even though we're already into February. Yesterday I wrote a postcard to a postmistress in Rupert, Vermont because she's desperately trying to save her small post office. Today I wrote a postcard to one of the members of the Canadian Armed Forces (to be sent to Afghanistan). Tomorrow's postcard is going to my son to let him know what I'm most looking forward to when I see him in a couple weeks. I plan to write a few letters; I'll begin sending off the letters with the hollyhock seeds I've promised to people; I'll definitely send more postcards to the troops; and I'm  sure there will be all kinds of other reasons or people to send letters or postcards. A letter to the editor; birthday, anniversary, get well cards; and thank you notes qualify too. Any form of correspondence will work. I'm excited about doing this. It's really not that daunting either — think of how little time a postcard takes to write!
What a lot we lost when we stopped writing letters.  You can't reread a phone call.  ~Liz Carpenter
While I still have your attention, I'd like to let you know that, like Mary Kowal, I too limit my Internet time. For that reason, I won't always be able to reciprocate a visit to your blog or 'web home', though I will try from time to time. What you can always be assured of, for every single comment left here for me, I will ALWAYS send you a personal response by email (even if it sometimes may take a few days to do so). Since I make a point of spending as little time on the Internet / computer as possible, instead spending more time living life and being outdoors, I felt you should know I genuinely appreciate your visits and especially love reading your thoughtful comments.