"Dreaming, I'm always dreaming, …" so goes the opening line to the lyrics of "Dreaming" by the Cascades (it's a decades old song). Ever since I was a shy little kid in school, I've always been a day dreamer. I day dream much less now than I did then, but it's still a part of me. My day dreams have grown up, or at least partially, and are spurred on by any number of creative pursuits. As many of you know I've been a horse crazy gal all my life, lived with horses for decades, and even earned a living from them for a few years. Horses remain one of my favourite subjects for photography but I don't get much opportunity anymore — that's a bit of a dream.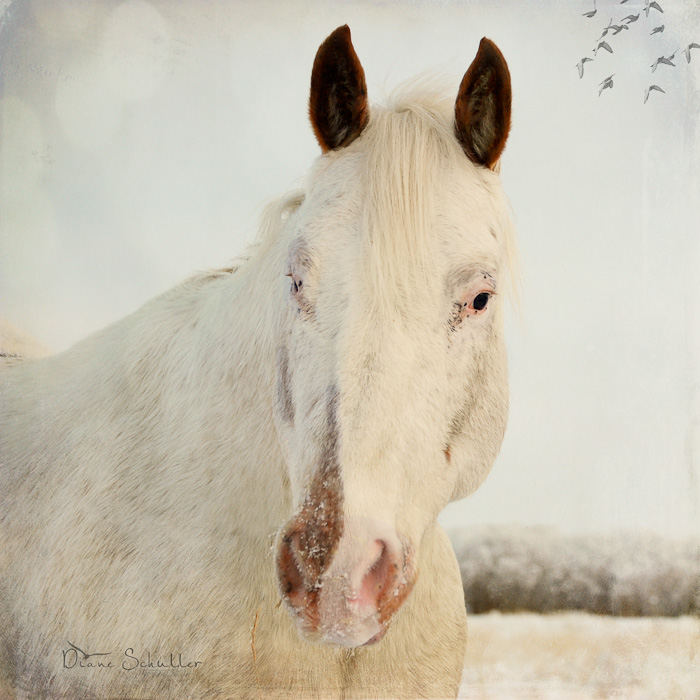 When I opened one of my newsletters this week, my day dreaming radar went on high alert. The Equine Photographer's Network had an advertisement for Tony Stromberg's equine photography workshops and wow would I love to attend one of those. So now here come the blips in that daydream: there is a significant cash layout required and since I'm not selling my work who could justify thousands of dollars for a week's "vacation"? … or how about the fact that the best zoom lens I own is a 300 mm so that definitely won't cut it, especially when I see the photographs from previous sessions where the attendees have zoom lenses longer than their arms for pity's sake! Those two reasons would be enough to snuff any daydream.
Time to find something else to daydream about.
~ ~ ~
PS: I've signed up to participate in Liberate your Art Postcard Swap 2013. If you make art you should participate too. Here is a link to Kat's how-to for making your own postcards. I already ordered a new set from Moo (again) — if you want to try Moo out, and I highly recommend them, click here to get a 10% discount for your first order with them — you will be amazed at the high quality results.
PPS: I'm so passionate about this so, just in case you missed it, see why I think Printed Photographs are a Gift.
triple PS: are you sick of them yet? … Today I am grateful for: 1) living where I do; 2) being healthy enough to enjoy an active lifestyle; 3) the scent of sea air.
NOW YOU!