All right. I realize this coming weekend is Thanksgiving for those of you in the USA. I tend to forget unless I'm online where the marketing machine is rampant. You see, here in Canada we had Thanksgiving over a month ago and it's so far behind us now. I wish to send all of you in the USA my sincere wishes for the most wonderful of family gatherings on this upcoming Thanksgiving weekend. Please do chronicle it in some way. Whether it's by taking photographs, by sketching in your sketchbook, writing in your diary, or simply retaining it in your short term memory 🙂 . Savour the times with friends and family — be grateful for these times.
Now, on to so much else. This could become long but I shall attempt to condense it as much as possible. We've been busy. We've finally joined the Newcomer's club and it has been a ride! We've attended meetings, walks, luncheons, and hubby has taken an introduction to lawn bowling (yup), men's pub lunch, and a game night in the neighbourhood. We're signed up for Guess Who's Coming to Dinner (where someone hosts and guests unknown to them arrive with appetizers, salads, and dessert). I'm looking forward to that one. I love spending time with people — we were so secluded when we lived up north.
We  both got iPhones a couple days ago. My son is thrilled (he lives much too far away now). I've never had a phone before and my husband has had one from work that is so ancient they don't even make those kind anymore! So we're both learning and teaching each other. I still refuse to sign up again for Facebook or Twitter. I prefer to communicate and keep up with people without spending all kinds of time on those two social networks — mind you I do find emails a very quick and inexpensive way to touch base or ask a quick question. Don't you prefer the old fashioned way of social networking — being with people? That's how I like it :~)
Enough of that stuff. I've registered in a course on how to watercolour in a sketchbook. Wow, am I ever over my head on that one yet I am determined to make it work. I'm going to be brave and show you one of my first (yes, the first ones I have ever attempted) watercolours. This was the 2nd attempt as a result of assignments from the first class. We're working on the 2nd class but I'll show you others as we go along. I want to get away from straight documenting here but at least a handful of you have asked me to please share some of this. So here it is.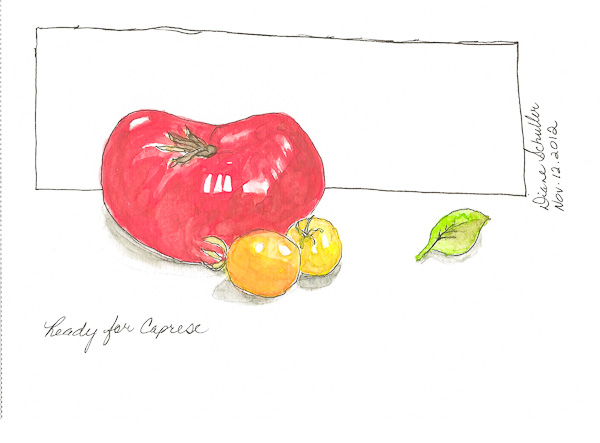 Of course I've been busy in the kitchen too. I regret to say I haven't even attempted to take photos of any of my kitchen creations lately. The other night when John headed to his games night, he was supposed to bring along a snack for sharing. I made some delicious (even if I do say so myself) cheese cookies. They are like a shortbread except with a bit of herbs and some cheese — perfect for a snack, as an accompaniment with a glass of wine, or like a cracker with appetizers. Apparently they were a hit and the host couple asked if they could keep some! Why not! Anyway, I'm going to have to devise a way of adding recipes here. The settings don't allow a person to cut/paste from this blog so I need to figure out how to provide access to a pdf or a link. As soon as I figure that out, I can begin sharing some of my recipes with you. Speaking of recipes (another topic several of you have asked about) I seldom use an actual recipe for what I make — I tend to just ad lib in the kitchen. But I can write out the basics of how I make something if you're comfortable with that. When I do baking, then I do use a recipe but 9 times out of 10 I'll make adjustments to the original recipe. So recipes will soon be part of my blog.
I wanted to make note about something else. I don't spend a great deal of time online. When I do, I tend to create some time for doing my blog posts and I really enjoy the Flickr community so I'll often take 10-15 minutes to do a quick check over there and say "hi" to some of my Flickr contacts. In the past I found that keeping up with blogs was biting into my time but now that I'm back blogging and doing some online time, I make a real effort to visit some of my favourite blogs. I can't get to everyone and I don't always take time to leave a note, either. But something I do wish to mention about the times when I take time to leave a comment: although I realize some blog owners respond, within their own comments, back to each person who has left a message, that doesn't work for me. I don't ever go back to a place where I've left a message to see if someone has responded. I simply do not have that kind of time. For those of you who have taken time to visit and leave a message here, you'll know that I send each of you a personal note directly to your email. Since I know how precious time is for most of us, I do my best to respond to each person leaving a comment but do so directly to your email. I can't always respond immediately and there have been times it can take me a week or more to get back to you, but I always will send a direct response. I want everyone to know I appreciate your visit so much and especially when you take the time to leave me a note, I treasure that gesture and do my best to honour it by sending you a personal and direct response.
Okay, that's enough housekeeping. I promise that I'll get back to my usual format of blog posts. Hopefully something interesting, visual, and perhaps even something worthy of thought or conversation. For those of you who actually read all this way, THANKS!
I give thanks that you visit here and wish that you all have something to be especially grateful for this week.
Warmly,
Diane
PS: Now that I'm learning how to watercolour, I painted on an envelope of a letter I sent out this week. I hope the person receiving it realizes I painted it just for you and didn't buy it like that :~) I should have taken a photo of it — it looked kind of cute. Oh and for those of you who participated in the postcard swap, my own postcards should be arriving any time now. Once they arrive, I'll mail you one of my own postcards with another short note. Have you sent a note to someone lately?