I have more photos of the Trumpeter Swans we encountered on Wednesday's road trip. Today I've played around with the images a bit. Normally, other than the occasional adjustment on contrast or perhaps on the brightness, I tend to offer up my images as they are. I'll explain what I've done to the ones I've processed since I've received a few questions lately asking me about that. Since I seldom do much if any processing, I thought I'd dedicate one post to it (besides I wanted to post several photos of these lovely swans).
This one all I did was a minor adjustment to contrast. That was the cob ("dad") out front checking everything to be sure it was safe for the two nearly mature cygnets and the pen ("mom") is bringing up the rear. Notice how they are constantly vigilant for danger — they never stop scanning their environment.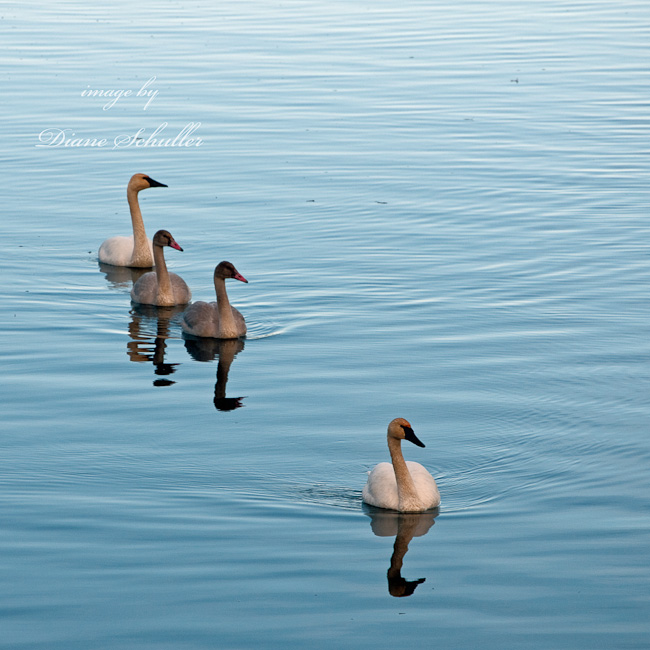 Now on this next one I have really done some processing. Remember that black & white of the swans I posted yesterday? Well this is the frame taken just before that one; you'll see I was almost directly over top of them in this image. Because the water was really bland due to the deep shading from the bridge, I chose to really punch up the colour creating a strongly dramatic look. This particular cob was constantly 'honking' or 'trumpeting'. It's such a deep, loud, and very distinctive sound. It reminded me I was in the company of one of Mother Nature's wonders.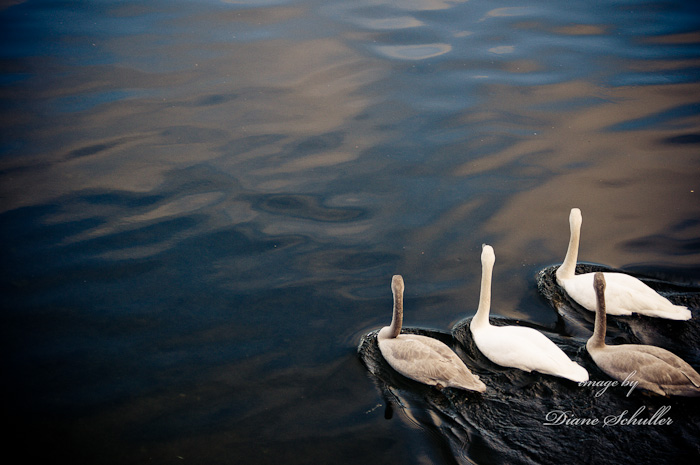 In this next one they were out of the shade and I chose to retain the natural tones of the water. All I did was enhance the contrast a tad then bump up the brightness just a touch.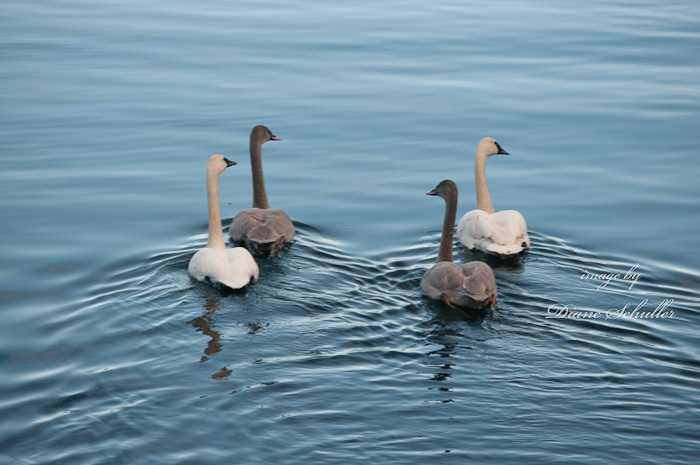 For this one, besides the crop, I fiddled a bit with levels as well as altering some of the hues and tones. I then added a vignette on the edges, something I seldom do and the few times I do use vignetting, it's usually much less than what I added in this particular image.

And now for one more. Because every one of these images, except the one taken in the shade, is ideally suited for black & white I wanted to do one more black & white conversion. In this one I could have done a simple conversion then adjust the contrast and brightness a tad but instead I chose to make it high key. So by changing the exposure & brightness in post processing, I have created a high key image. Often times a high key image can be even brighter but I didn't want to lose the effect of the gentle ripples so I held back.
These Trumpeter Swans were photographed on Vancouver Island, BC.
"Swans mate for life, and pair bonds are established on the winter feeding grounds. Right around Valentine's Day, Trumpeters begin leaving us to migrate to breeding grounds in extreme Northern BC and Alaska. By late March, the swans have all gone. Swans nest on large mounds of vegetation, surrounded by water." Source: Comox Valley Naturalists Society.
For more Information on Trumpeter Swans.
And finally, some lovely words from poet, Mary Oliver on Swans:
Did you too see it, drifting, all night, on the black river?
Did you see it in the morning, rising into the silvery air –
An armful of white blossoms,
A perfect commotion of silk and linen as it leaned
into the bondage of its wings; a snowbank, a bank of lilies,
Biting the air with its black beak?
Did you hear it, fluting and whistling
A shrill dark music – like the rain pelting the trees – like a waterfall
Knifing down the black ledges?
And did you see it, finally, just under the clouds –
A white cross Streaming across the sky, its feet
Like black leaves, its wings Like the stretching light of the river?
And did you feel it, in your heart, how it pertained to everything?
And have you too finally figured out what beauty is for?
And have you changed your life?