In the town where I live there is a plethora of farms or acreages in the area, some are even within town limits. Many of the owners sell their produce at this time of year, though most do it through one of the local farmer's markets. I drive past this little stand every time I head 'downtown'.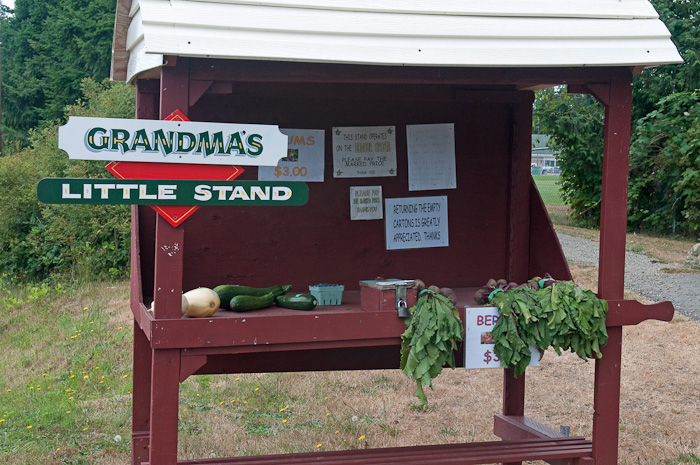 The stand sits along the main road leading into town and along the Island Highway. There is a gate across the driveway but a home and acreage are partially visible through the trees though they definitely do not have clear sight of their stand.
When I stopped there a day ago, I picked up a container of their blueberries (these are all things they grow inside on their acreage; they are not re-sellers) as well as one of their spaghetti squash. There were also at least a half dozen containers of golden plums and a few bags of fresh picked apples, a few bunches of carrots, bunches of beets, and a few zucchini. I went back today to get more of their blueberries — they were so excellent and full of flavour (and we ate them all in one day) that I wanted to get more plus I thought I may buy some of the plums.
As with some of the other farmers in the area who sell eggs at their gate, this lady sells her produce on the honour system. It's a code really, where the person relies on members of the community to be honest and to leave payment in a little box intended for that purpose. It's a simple act of expecting people to do the honorable thing. Some of the farmers who sell eggs in this way, leave a cooler of eggs at the end of their driveway and often have a little plastic margarine tub for a person to open and leave the appropriate amount of money inside. I love that I live in a community where the honour system is alive and well — and people do the honorable thing.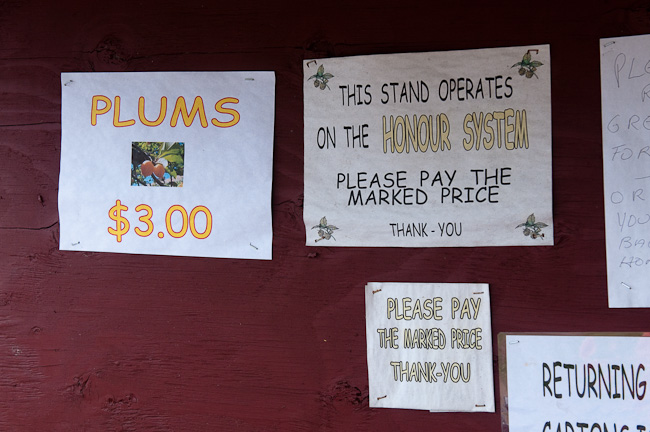 In less than 24 hours, all the plums were sold, plus the carrots, and all but one of the containers of blueberries. I came home with that one container of blueberries and a bunch of beets. We had the beets roasted this evening with dinner and will be enjoying what's left of the blueberries (because I can't help but nibble on them) in blueberry pancakes in the morning.
"It is still best to be honest and truthful; to make the most of what we have; to be happy with simple pleasures; …" ~Laura Ingalls Wilder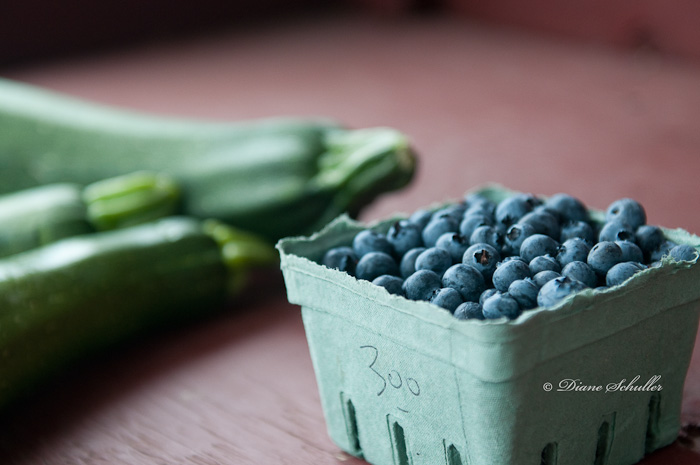 Do you have a similar situation where you live? If so, leave a link in the comments so I can come take a look.
All photographs on this site are the exclusive Copyright © Diane M. Schuller. All Rights Reserved. Permission directly from Diane is required should you wish to copy or use a photo for any purpose. Thank you for doing the right thing.