I may be getting on in age but I've never stopped dreaming. When I was a little girl I used to spend so much time — especially at school — daydreaming. I would dream all kinds of things. But when I was daydreaming it wasn't to escape reality or to have wishes that I knew wouldn't or couldn't come true. I was certain those dreams could one day come true. One of them has.
"Without leaps of imagination or dreaming, we lose the excitement of possibilities. Dreaming, after all is a form of planning."  ~ Gloria Steinem
About two months ago I saw a sign for an estate sale and, curious cat that I am, decided to follow the signs and see what it was all about. Inside the dust- and cobweb-laden home was an assortment of furnishings and knick knacks, none of which interested me. But in the living room was a small apartment size piano that really caught my eye. I went over and played a few keys. To make this long story short, I ended up putting an offer on the piano and purchased it. It's now been tuned and I've begun taking lessons. How does this tie in to my daydreaming? As a child — even as an adult — I longed to one day have a piano. It needn't be anything grand, but I always wanted to play an instrument especially a piano. So, just as Gloria Steinem said, "Dreaming … is a form of planning."
"when hope gets released in a place, all kinds of things are possible" ~ Joan Bauer, Hope Was Here.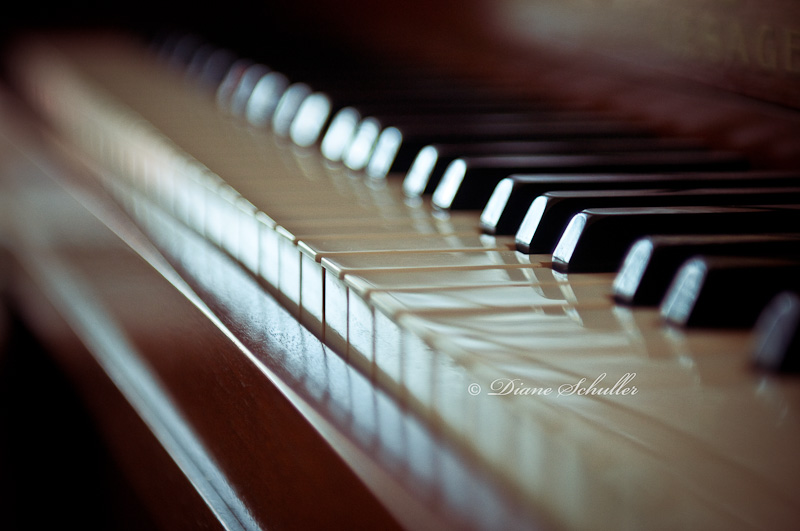 She doesn't have a name yet but it will be something French and likely old world. She's a Lesage, built in Quebec Canada in the 75th year of the new Lesage piano factory. In fact, I would entertain  your suggestions for a suitable name of French origin — and if you have a story about the name, all the better.
All photographs on this site are the exclusive Copyright © Diane M. Schuller. All Rights Reserved. Permission directly from Diane is required should you wish to copy or use a photo for any purpose. Thank you for doing the right thing.