I learned something today and I learned it from a bottle of wine.
At dinner this evening my husband opened a lovely bottle of Shiraz, 2008 Pillar Box Reserve. On the label it stated in part, "In an age of instant gratification, the pillar box is a stoic reminder of the virtues of patience.  The act of writing and sending a letter is matched by the anticipation of the receiver." ~ Mark & Kim Longbottom, vignerons in Padthaway, Australia.
Coincidentally, I wrote a [five page] letter to a friend of mine the other day and just today popped it in the mail. I had to read more on the bottle of wine to actually figure out the connection between writing letters and determining what on earth is a pillar box? A pillar box is a post box.
"The first pillar box was erected in Australia after the introduction of postage stamps in the 1850s. Several of these elaborately designed receivers still exist as stoic reminders of a time when beauty could be found in the most mundane – even in the posting of one's letters." ~ Henry's Drive Vignerons.
I know I've written a lot in past years about how much I enjoy writing — and receiving — a handwritten letter. Or simply receiving a handwritten notecard. The reason I wrote a letter to my friend was because I felt that yet another boring and meaningless e-mail was totally out of the question. So I made an impromptu decision to respond to her by taking time to actually write a letter. I used to write to my mother on a regular basis. I know how much she enjoyed receiving those letters — likely as much as I took pleasure in writing them. No one writes letters anymore. What a shame. What a shame no one feels compelled to take the time and patience to write something interesting by their own hand.
I still have some of that lovely writing paper in my secretary. I often open it up and wonder why I no longer take the time to write to a friend, my son, or other relative. There is really no good excuse for not writing. After all if we don't take the time to show friends or family how much we love and appreciate them to actually take the time to write them a letter, how could we ever expect to receive one of those cherished handwritten letters in return?
I'm glad I wrote that letter and I plan to write one to my son this coming week as well. Who will you write to? Today!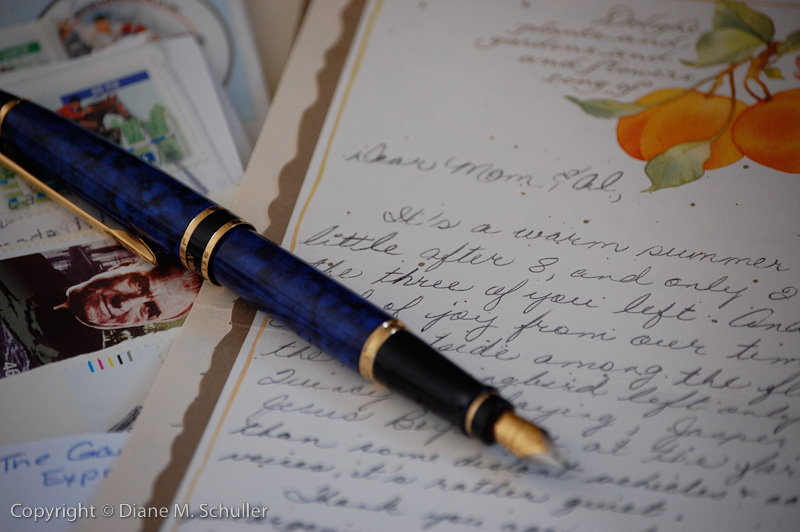 One of my favourite things: receiving a handwritten letter or handwritten note.