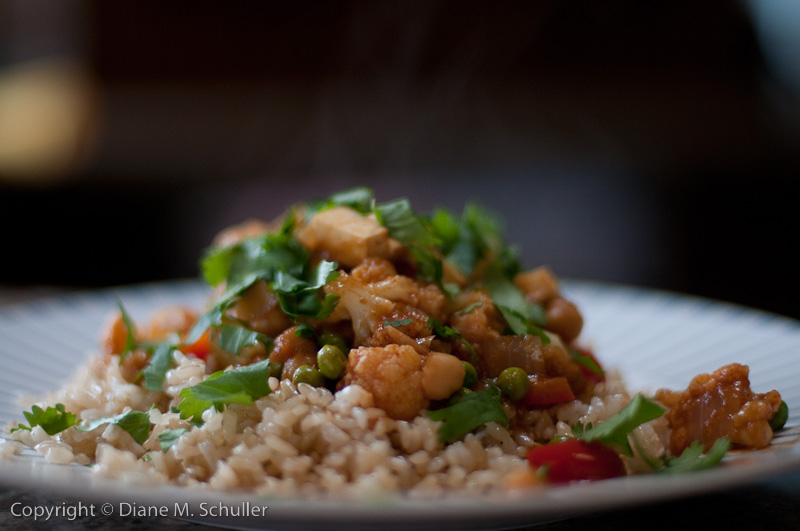 Dear Mom,
You know me. I've always loved curry. Whenever I cook curry, it's always a good evening. Curry invigorates my senses: the smells, tastes, and even the visual. Well tonight was a curry night and oh my it was delicious. I love how tofu picks up all the curry spices. Mint wasn't fresh so, as I'm apt to do so often lately, my garnishes were fresh cilantro and toasted almonds. Of course, a nice crisp white wine is pretty much mandatory to go with it. Curry perks me up — it puts me in such fine fettle.
The neighbour passed me some lovely thick stalks of rhubarb from her garden. Everything grows so beautifully here. I sure wish you could be here. I miss you so. I'm going to make some rhubarb crisp with the rhubarb and may add some frozen blueberries and orange zest to it as well. I've found that's always such a perfect combination — much like adding kids, beach balls, and sand to a sunny summer day. Remember those times when we'd go to Lakeview? I still remember how all those cabins — only one room in size — were lined up along the drive, much like soldiers in a parade.
Back to my curry dinner. I didn't have any baking made (I ate the last of the cookies this afternoon and had nothing else frozen). Fortunately the mangoes have been sensational in the supermarket recently. I diced one up for my dessert though I did indulge in a shot of Sambuca to go with it. Remember that fun-loving Italian family we used to live beside next to the Low Level Bridge? They sure lived life to the fullest didn't they?
Did I tell you Len bought me a beautiful bouquet of flowers for Mother's Day? He specifically asked them to include oriental lilies — can you imagine? Two of the lilies are in full bloom right now and oh my the entire main floor is whispering, "we're here … we came from Len … breathe in our intoxicating loveliness" … So, I do.
Love you and miss you. I'll write again.
Your daughter,
Diane