"Tamrac's Maggie Has Moxie"
January 1999 – January 2012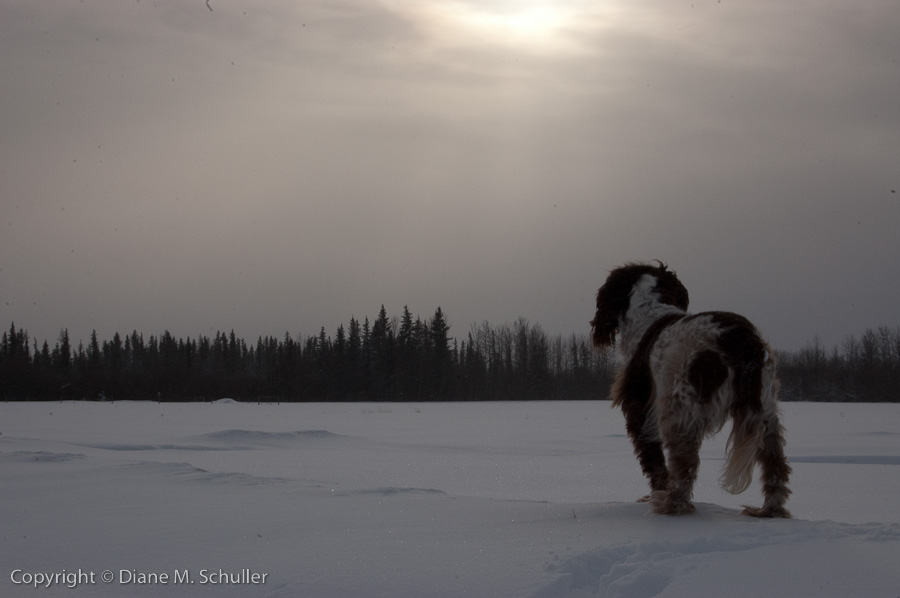 Dear Friends,
It is with a heavy and pained heart I share with you that our dear Maggie May Muggins Magoo (as we often dearly called her) died in our arms last week.
In her 13 years with us she brought John and I so much joy. She loved us both in the way only a dog can, though certainly was deeply attached to John. She faced every day with an abundance of joy and independence. We delighted in how exuberant she was on her daily runs, and how she would leap and 'quarter' the fields in her pursuit of birds, mice, and other vermin. She was a master hunter and taught both the Aussies how to track, hunt, and capture their prey. She was soft, kind, and never ever had a bitter moment. Despite never having been raised with children she was a supreme matron of youth. There wasn't a human she didn't love and immediately trust. We will miss so much about her.
We'll miss those floppy ears as she flew through the air with her Springer gallop; her well honed instincts; her cute and sometimes awkward way of going berserk, especially in wet snow; how she'd put Austin into his place when no other dog would ever dare try; how she'd snort as she rolled on her back, belly exposed and full of Springer friskyness; and how she was a quiet friend cuddled at John's feet on the end of his Lazyboy; and how she'd paw at my leg when I would groom one of the other dogs and she wanted her turn. So much more we'll miss.
Her people meant the world to her even if she wasn't as demonstrative as our demanding Aussies. She was silently devoted. John and I will both miss those big round brown eyes and we're already missing her little "arrroooo" which was her expression of delight that it was feeding time.
I had thought I would put together a brief slideshow of some of my favourite images of Maggie but simply looking at photos of her is far too painful right now. We'll both miss her, a lot.
~ ~ ~
PS: I recently removed nearly all my photos and will likely continue to take down photos that I post after they are up for a week or two. I will write a post in the future to explain why I have made this decision. Photographs on my website continue to remain online.