Welcome! … Ottawa designer Kelly James is featuring my equine artwork over on her blog this week.

"Listen" being given away over at Kelly's blog — go enter!!
Since my recent posts are mostly about my recent trip to Hawaii, I thought I would put this one here as a welcome to those who are coming from Kelly's lovely spot on the web (to the first handful who arrived earlier, I'm sorry I didn't have a welcome post before you arrived). As part of my introduction, I welcome you to scroll down and see some of my images of all subjects but if you'd like to see some of the equine-only ones, simply go to the menu bar above: click "Categories" and then select "Horses – Livestock" from the drop down menu. That way  you will see some of the more recent posts/images of horses. Or, visit my website to see a few more of my equine images listed in my "Gallery" under "Pets-Livestock" (I am currently in the process of setting up a specific area for my fine art prints so if you'd like to see more, let me know and I'll point you in the right direction.). Let me know what you think. Enjoy!!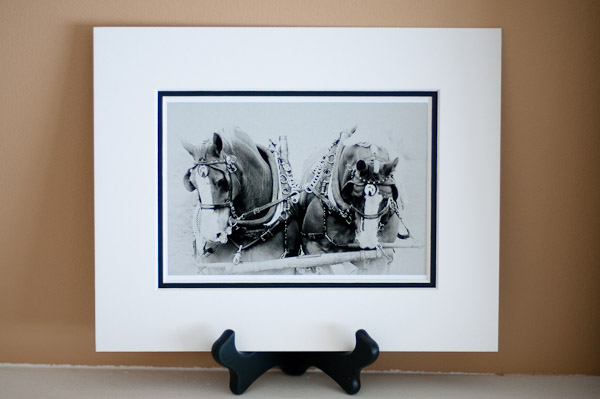 "Power Pair" by Diane Schuller, shown as a 5×7 matted to 8×10 (this is how "Listen" will look when sent to the winner over at Kelly's blog.
And don't forget, if you're interested in purchasing equine art, I ship anywhere. Please contact me if there is something that catches your eye and we'll work something out. I'd love to help you add some beautiful equine art to add to your home or office decor.
~ ~ ~
Diane's photographs have appeared in two recent gallery showings as well as being included in publications such as Trot magazine, Dog Sport, Dogs in Canada, Country Guide magazine, Canine Review and newspapers Hythe Headliner, Peace Country Sun, and The Edmonton Journal.
~ ~ ~
"The wind of heaven is that which blows between a horse's ears."  ~Arabian Proverb
"A horse is the projection of peoples' dreams about themselves – strong, powerful, beautiful – and it has the capability of giving us escape from our mundane existence." ~Pam Brown
Coming Soon: Horse art in feng shui!