First I have to tell you all about a giveaway over at Decor Happy. Head on over to enter for their draw for the decorating book, Restore. Recycle. Repurpose. I love decorating ideas that utilize some form of recycling or repurposing and I hope one of us wins the draw for that book! Now on to another tip I have for you that ties in with the title of that giveaway book.
My last post provided you with a great tip for using & displaying all those snapshots you have buried in boxes or albums (see What Can I Do with all my Snapshots). Displaying photos is definitely a part of our decor, of course. Here's a recycling tip for you. The other day I was in town and stopped by our local thrift store. They had several picture frames and many of them were pictures in frames.  I sorted through them and brought these ones home. I'll be fixing them up a bit but all it will take is a can of spray paint using a cardboard box (outside) to prevent the wind from blowing the paint everywhere. I'll paint the frames but that darling photo easel I plan to use as-is. I've done this before and highly recommend heading to your local thrift store to see what great finds you can bring home and use for getting some of your photos up on the wall.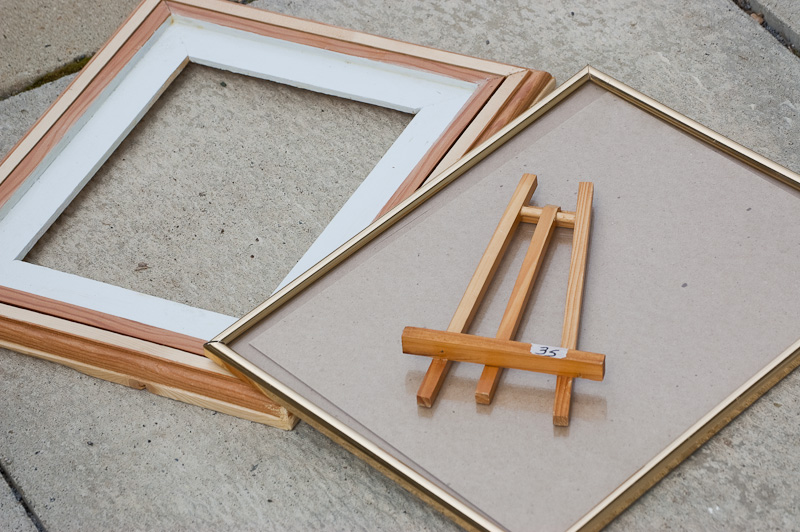 The added bonus is when you do something like this, often the frames don't need any touch up, but even with the fresh touch of paint, I have two new frames and a photo easel at a steal. I paid $ 3.85 for both frames plus the easel. When you're at the thrift store check for those nice wood recipe boxes. They make ideal photo boxes and if you leave the lid open with a photo or two slipped up, guests will be enticed into looking through them. In the past I've often picked up hand made doilies for less than a dollar that I use throughout my home. Don't get me going on tips for repurposing things either — I could go on and on with that subject!
NEWSLETTER:  I should also mention that I plan to resume producing the monthly newsletter. My newsletter will be filled with tips such as some of the ones I've been sharing with you lately. I also plan to include resources and other useful information. I'm going back to the newsletter because I'm needing to refine my online time. This means I will be making far fewer Facebook posts but I will continue to leave the automated setting so all these blog posts go to my Facebook page. But to get all the 'juicy' stuff, I'll be including that in my newsletter. Sure a few things will continue to be included here but the monthly newsletter will have directed content of use to anyone. If you or someone you know may be interested in my monthly newsletter, you can let me know either by adding your name over at my website, enter from the opening page, and click on the little envelope icon that appears at the bottom right of the screen. Alternatively, if you leave me a note above using the Contact tab, so that I have your email address. I will be setting up with an automated email company so I can assure everyone they won't be spammed and so that it is easy to opt out. It may be a couple weeks before I have all the details ironed out and then I'll contact everyone. Thank you so much for your loyalty and for your understanding while I work at streamlining this part of my business.
Photographs never forget!