If you are one of the few people who actually gets your snapshots printed (what a concept!), have you questioned what you can do with all of them? I'm sure you have. I have too. Here's a great idea I actually got from a friend who does this very thing. She had all kinds of snapshots of her family, her garden, and trips they had taken. The problem is, she's not keen on taking time to put them all into albums but she does keep them organized in photo boxes. (Between you and me it wouldn't matter if she kept them in shoe boxes — at least she has physical copies of them rather than leaving them on her hard drive!). So here's what she does.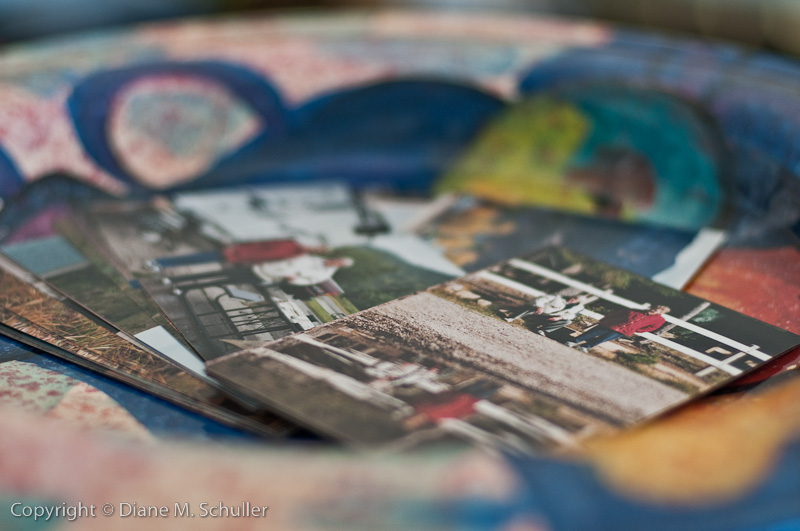 If you drop by her place for a visit, on her coffee table she always has a pretty dish or bowl prominently placed for all to see. The trick is, that bowl or plate is never empty. Instead of filling it with mounds of apples or a variety of fruit, she has a scattering of photos inside that pretty bowl. I can tell you it's usually hard to resist picking up some of the photos and getting a closer look. It can even be a great conversation starter when you have a gathering of people over for a visit. Take note, I have adopted her idea occasionally so these are my family photos you are seeing in a pretty bowl.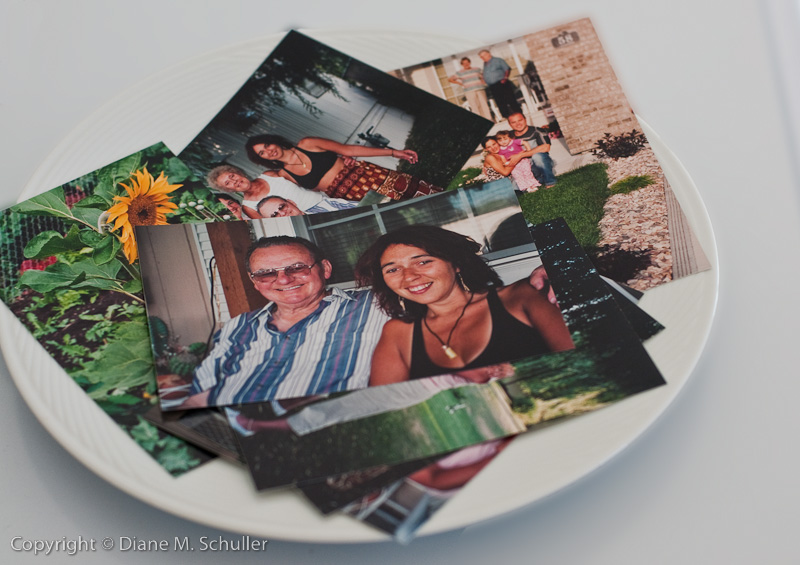 I'm sure you're thinking to yourself, "That's well and good but that's only a few photos. What about all the others?" Ah ha! There's more to it. She leaves the snapshots out for a while (I'm sure that can be whatever time period you like: a week, a month). She then gathers the dishful up, puts them back in the box and brings out another handful or two and drops them in the bowl. How clever is that? You and I could do that too. The snapshots are being rotated and you, your family, and guests will always have them right there in front of you to view. I certainly wouldn't worry about the few fingerprints or the occasional rubbed edge on a snapshot — the snapshot still exists and at least they're being shared as they were meant to be! Snapshots are meant to be a reminder of moments past. But if we never look at them then why take them in the first place? Besides, not only is it easier on the eyes browsing through photos that you can actually hold, but those moments linger in your mind simply because they are visible and being seen.
At your OFFICE: You could do the same thing at your office. Bring a vase that flares toward the top or an empty box from chocolates (line the box with tissue first) and toss in your photos. I bet you'll start a trend at work or compete to see who has the best display vessel! Go ahead, get those snapshots printed and on display.
I'd love to know how you take advantage of displaying your snapshots — the ones that are printed out and not wasting away on  your computer. If you have a photo of them on display, include the link and I'll come take a peek!
~~~
Photographs never forget.