I hit the front page! It's not the Globe & Mail or the New Yorker but it's the front page of the Hythe Headliner! You have to love local newspapers — and the editor of course. I know that the editor of the fund raising book my photo was selected to appear in, sent press releases out to local papers for all of the artists and photographers whose work appears in the 2010 Paws for Charity Art book, but it's pretty exciting when one of the papers picks up the story!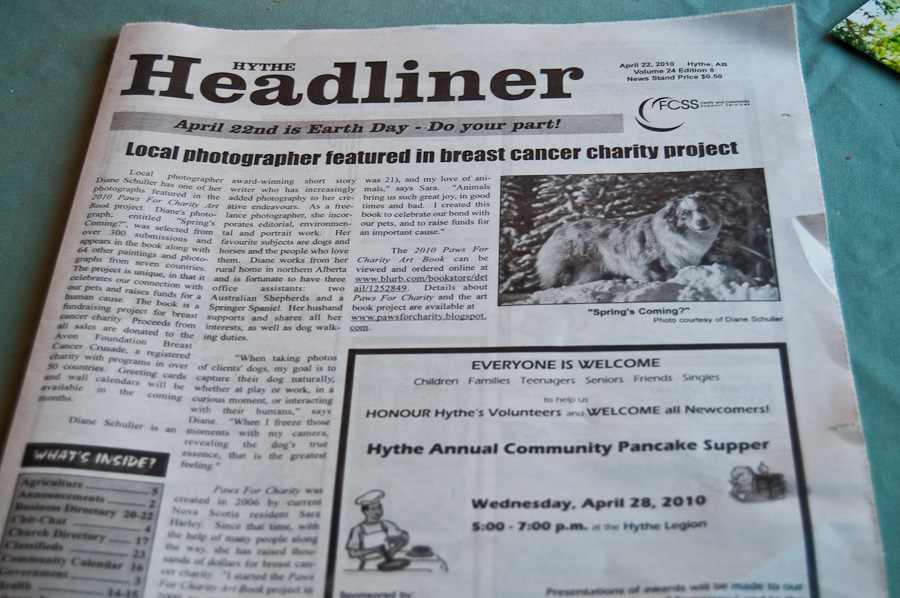 I promised you that throughout 2010 I'll be promoting this book because it's a fund raiser after all and for such a good cause. There are so many of us who are touched by cancer in one way or another. I survived cancer, I lost my amazing & loving mother to cancer, and many other relatives too. Cancer is all around us. I hope you may consider purchasing a copy of the book — I don't get anything from the sales of course — all profits go directly to cancer support. If you'd like to see a preview of the book, click to visit the 2010 art book.
Anyway, I couldn't resist letting you know my news, hit the news 🙂  My copy of the book should be arriving any day so you can expect yet another post when it arrives.