I've spent the better part of the day working on a custom flush mount album. I'm still learning how to be proficient at creating these gorgeous products so it takes me a lot longer than it takes others. I'm also so darn fussy about the details that I tend to "measure twice; cut once" over and over again. I've made some of these in the past but, because I don't make them frequently, I am rusty each time I begin again. The end result is always so beautiful but boy-oh-boy it takes me a very long time to create them. So here is a preview of the one I created today. It's a gift for my husband.
Unfortunately to put together my mosaic of each spread, I was not able to get them all in order no matter how much I fiddled with my software. So here is a peek at what the full page spreads basically will look like. I did not include the cover but when the album arrives, I'll take photos of it for you. I added a light black stroke around each spread so you could see what the 2-pages look like opened up. (I also see from my preview here on the web that they look over-sharpened — the album itself definitely is not over-sharpened but it's late and I wanted to post this sample for you.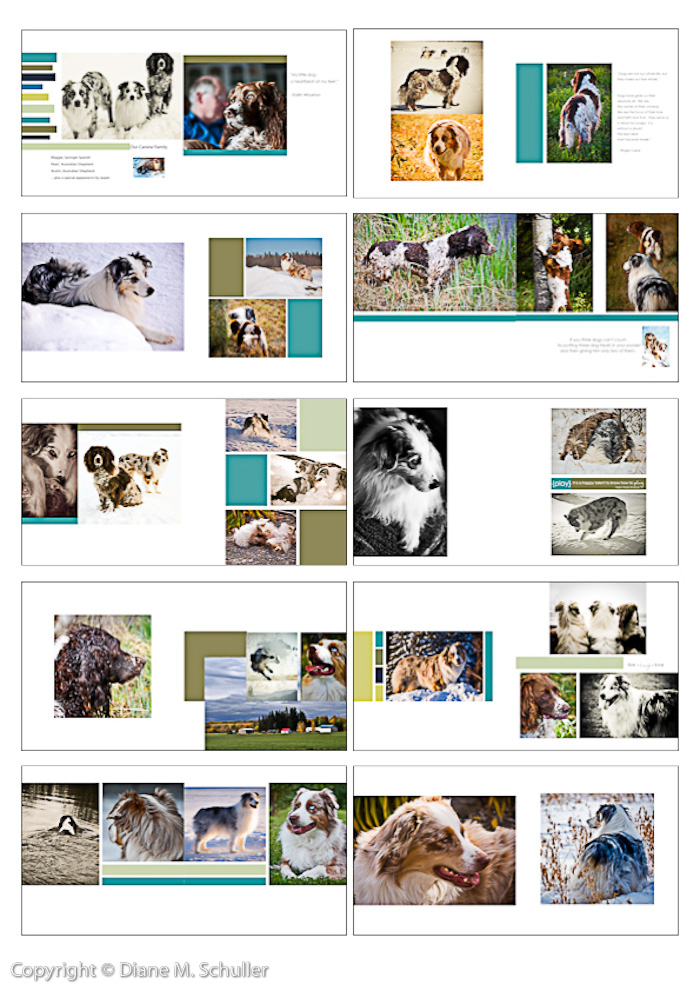 Here is a separate sample of the first 2-page spread so you can see it a bit closer.

So what is a flush mount album anyway? Press Printed Albums are flush mount albums with thick lay-flat pages and no middle gutter.
Unique to Press Printed Albums, the inside pages are printed on either Art Watercolor, Art Linen, Art Recycled, or Pearl press paper and adhered to heavy black cardstock. The ones I've ordered so far are all on the gorgeous Pearl finish. This allows each spread to lay flat with a thick and rigid look and feel. Pages are printed as full spreads and not cut so imagery and design elements are not lost in the center of the book! Press Printed Albums are available in fixed lengths of 20, 40, or 60 sides (10, 20 or 30 spreads) and are available in 6×6, 6×12, 8×8, 10×10, 12×6 and 12×12 sizes.
All Press Printed Albums are available in a full line of cover materials including floral, mineral, suede and book fabrics, as well as many leather options including vintage, alligator and standard bonded leathers, and as a premium genuine black leather. The very popular custom photo covers are also available with Lustre or Metallic photographic paper, and Fine Art Canvas or Metallic Canvas. All cover materials can be padded as an option. All covers are wrapped around masonite providing a heavier, more substantial album. Photo custom covers are made with a photographic or canvas print that is laminated and adhered to the masonite cover.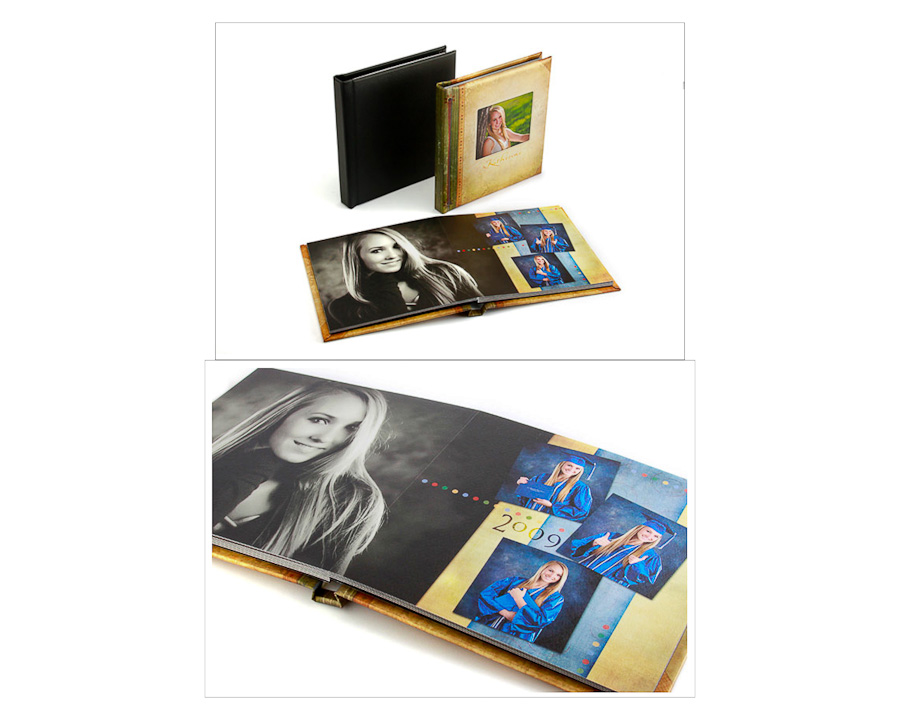 I have shown photos before of the press printed books & albums. I'll be sure to take photos of this one when it arrives. See what a beautiful keepsake you can have from your photo session when you hire a custom photographer? Although the press printed albums are most popular for weddings, newborns, and graduation, ANY occasion or any time is ideal for such a quality keepsake. These are quality heirlooms you'll be proud to display and pass on to family. {Don't forget Mother's Day and Father's Day are coming up very soon.}