Hey, was I ever over-the-moon excited yesterday when I opened the mail! I continue to add to my samples and the most recent one to arrive is the tricked-out photo box. This is no ordinary photo box and each one is custom designed for you, using a photo (or photos) from your session on the cover. The image I used is simply one I took of my lily garden.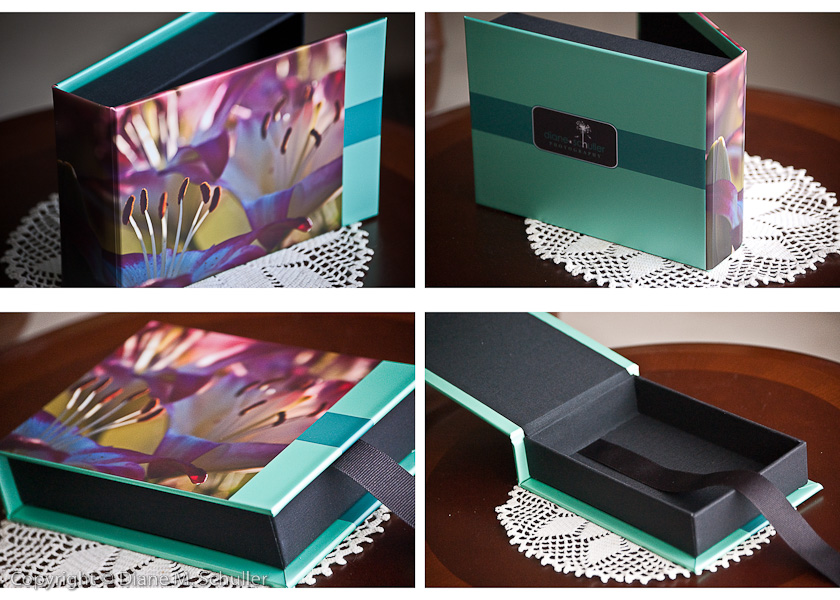 As you can see from my photos, this is a classy looking box, sturdily built (and not made in China), custom designed, with a lovely cloth lining in black. The wide ribbon is intended to make it easy to lift the photos from the box to prevent damaging them. For the sample I created a design that would demonstrate that the image does not have to fully cover the front, it can wrap around (or not), and there are a multitude of design possibilities. What is not as discernable in the photos above is the finish I ordered this one in: metallic. It is absolutely gorgeous and gives the photo — the entire box really — a pearl like glow. Oooh, if you could see or touch one you'd swoon. They're a bit pricey if you compare them to the mass produced, cheaply made-in-China boxes found in all the box stores but you're comparing apples to oranges. Bear in mind these are fully personalized, made in North America, and put together with quality materials and workmanship. I'm going to do my best to provide them at a reasonable price just so you can have one of these beauties.
They come in four sizes: one that holds 4×6 images up to 100 photos; for 4×6 photos that holds up to 250 photos; one that holds 5×7 images up to 100 photos; and one for 5×7 images that hold up to 250 photos. They're ideal for the person who wants all the photos from the session, or for parents with a newborn (and we know how much parents love photos of their newborns), graduation year, for weddings, or  anyone who wants to have a beautiful heirloom box to show off and pass down to future generations. I also think they would make a lovely gift item for any family member or friend who might want to fill it with their own photos — a going away gift, a gift for the grandparents, or a special friend.
I'm working like a dervish trying to get all kinds of jobs completed ahead of time before I head out for a combined business/pleasure trip next week. I'll include a post to remind everyone that I'll be away and when to expect me back. For now, I'm hoping to update my website with some of the new products I'm offering. Wish me luck in getting to that too!
~~
Visit Diane's website to view more products and her portfolio. Don't forget to become a fan on her Facebook Photography page to be the first to learn about casting calls, promotions/specials, and other special announcements.